Working on The Girl Who Wore Freedom team, I have learned how commemoration services in France honor and thank our veterans, while also providing moments of restoration and reconciliation. These services and celebrations also offer opportunities to educate younger French citizens in the actual cost of their freedom. Sadly, I have never been lucky enough to visit Normandy. All that I know about their gratitude has come from the stories captured in the film and other stories shared by Christian.
In September, our team was invited to participate in the Welcome Home Veterans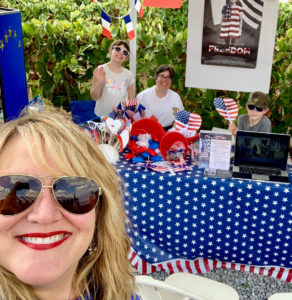 Celebration, a five-day celebration held in Clarksville, Tennessee on the doorstep of Fort Campbell. This event seeks to "celebrate the service and sacrifice of veterans from across the years, miles, and conflicts. This is a time of reflection, remembrance, and reunion." Looking over the schedule of events I saw there were parades, remembrance ceremonies, traveling monuments, dinners, and lectures, as well as a focus group of a particular film. Everything seemed so similar to the celebrations our team had captured in France.
Inspired by what I had learned from the Normans in our project, I packed up my children and took the opportunity to join Christian in Tennessee and see what we could learn. Our week in the area, while not as temperate as a week in Normandy, did not disappoint.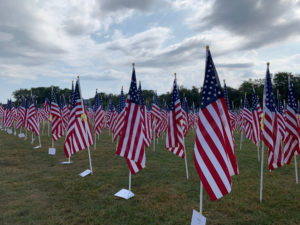 Every day the children and I learned something new. We took the opportunity to walk through the various memorials. You could walk through the 9/11 Never Forget Memorial Exhibit or the Field of Honor that commemorates lives lost on 9/11 as well as veterans, activity duty, fallen soldiers, and first responders. This year our team placed a flag in honor of our dear friend and cast member, Al Mampre.
There was the traveling Korean War memorial, an arrangement of lonely soldiers from a forgotten war. We spent most of our time at the traveling Vietnam wall since that was when my father had served. I took the time to share with the children the stories of service and sacrifice associated with each memorial. They were then able to ask hard questions. We discussed the importance of this history and why the sacrifice was necessary then and still is today.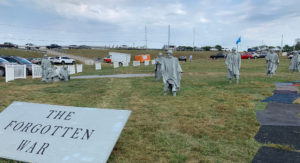 My children and I met hundreds of veterans from various wars. Each day, we were able to practice what we had learned from the stories in The Girl Who Wore Freedom. With every new veteran, we first thanked them and then took the time to ask about their service. Every veteran rewarded us with a smile and a story just because we cared to listen. Each day brought new friends and new stories, some were funny, and others made us weep. I saw first-hand the power of a veteran sharing their story. I saw connections and friendships made when we took the time to listen.
There were many amazing stories, and if we are lucky, our team will be able to bring a few of those to our blog very soon. For today, I would like to leave you with just one story. Frances Manzitto and our other friends from the Visit Clarksville team are the fantastic organizers of the Welcome Home Veterans Celebration every year. After months of planning and preparing these ladies then spend every day during the celebration assisting visitors and vendors in any way possible, from early in the morning until late at night. This story comes to us from Linda Ebel, Assistant Director of Tourism/Manager of Historic Collinsville for Visit Clarksville. Linda shared this story with us late one afternoon, and then graciously permitted us to use her Facebook post from later that evening.
Today, I was asked to go pick up a WWII Veteran from the parking lot as I was driving a golf cart. I happily did so. When I got to him, I also noticed he was also Mason. I got out and asked if I could give him a ride. He got in my cart and told me that he was just driving by on the highway, saw our event and had to come back. But… he couldn't walk. I explained that I was happy to show him around using the cart. As we drove, he proceeded to tell me about his time in the war. We talked, and I connected with him by telling him my pappy was a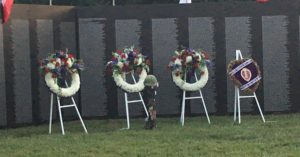 Mason and served in the Battle of the Bulge. Then he shared that his son was killed in Vietnam. He has never seen the Vietnam Wall or his son's name. He started to tear up and said, "Marines don't cry!" I replied, "Sir, they do here. It's healing."
We went to the Vietnam Traveling Wall locator booth and found his son's name. We then went to the wall together. I found his son's name, etched it for him, and helped him take pictures of it. I then stepped aside to let him have a private moment with his memories. He was so happy and sad at the same time. When he was ready, we got back into my cart so that I could show him the rest of the festival grounds. We visited the various vendor booths and made more friends.
I took him to the Marine Corps League and introduced him. Instantly connected, they began to swap stories like only those that have
served can do. He mentioned he wanted to go back and get a new WWII hat. After a knowing look in my direction from his fellow Marines, I took him the long way to the back to the booth. What he didn't know was one of the Marines ran down before we arrived and got him his hat. I took him to look at the merchandise and was given the signal that the Marines had his hat. Now I had to convince him not to get the hat. Nothing the vendor or I could say would persuade him; he so was determined to get the hat. I didn't know what to do, finally, in desperation, I said, "Sir, when two women are telling you to put the hat down and get in the cart, you got to listen." He something was up, but he got in the cart, and I took him back to the Marines. There they did their oorah thing, that Marines do, and presented their fellow Marine with his new hat. He was so happy and couldn't wait to put his pins on the new hat! After many tears by all, pictures, a big hug goodbye, he asked to go back to his truck. He left, waving with a big smile and a new hat.
We gave him a piece of his son that he can now take with him. He was so precious and gracious. THIS IS WHAT LIFE IS ABOUT! These moments are why we hold this event year after year. I go to bed tonight with a full heart and love for our those gone before us. Those who fought for our freedoms. I am thankful and blessed. 
Honoring veterans and showing gratitude is the mission of Linda, Frances, and the others that made the Welcome Home Veterans Celebration possible. For all of us at Normandy Stories and The Girl Who Wore Freedom, this is our mission too. We are forever changed by the example of our friends in Normandy. We wish to honor those that served and sacrificed by capturing their stories, one story at a time. As for my trip to Clarksville and the chance to share this unique experience with my children, I am thankful and blessed.