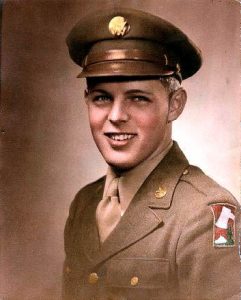 Last June I had the blessing to visit Normandy. I went to visit my father's war. I went to France to see the nation where my father and so many of his brothers in arms became men. Somehow, I was searching for something within myself as well. I think those of us who were children of WWII veterans' sense that there was always a piece of our fathers that we never got to know. In small ways, they held back their emotions from us over the years… at least that was true for my father.  I tried to understand Dad, but there was something missing. My father was a kind, decent, and caring man. However, at times there was a distance. It always occurred at two times of the year — summer and December.
On June 6th, 1944 the Allied Forces landed on Normandy's shores and brought with them the forces of freedom, not to conquer, but to liberate. In August, another overwhelming Allied force landed in southern France. Awaiting them were German soldiers and death. My dad landed in southern France and he and his comrades slugged it out all the way up to the German border. Death, destruction and the randomness of it all must have weighed heavily on his mind. Sometimes in my youth, the war returned to Dad in the night. I heard his nightmares and his shouts. Mom always said not to bother him and to "let him be."  I was scared.  When things were tough for him, he would just say, "The war is talking to me today. So, don't take it personally."
I was 19 years-old in December of 1983, and I came home nearly 3 hours after my 12:00 curfew. My father waiting for me, dressed for work as a sheriff's officer. Our Christmas tree lit up the room.
"Where have you been?" he said.
"Out," I replied sarcastically, thus inviting an argument. Frustrated, I shot back "Come on, Dad. What were you doing at 19?"
All Dad said was, "I was freezing at Bastogne." He left for work, slamming the door. It was the worst mistake of my life. I realized his life at 19 was vastly different from mine.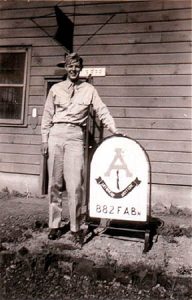 Then in 1998, it all changed. We went to see "Saving Private Ryan" together.
The most difficult part of the movie for Dad was when the film ends in the Normandy cemetery and the aged Private Ryan says to his wife, "Tell me I am a good man." It was at that moment the war became real for him again. Not the battle scenes, not the realistic depiction of the slaughter of combat or even the randomness of it all…It was the survivor's guilt, the search for the meaning of why he survived, married, had kids, and others didn't. As we walked out of the theater together dad was quiet, unusually so. Then as we began to pull out of the parking lot, Dad began to cry. So, I pulled over and he told me everything. It was intimate, honest, and a horrific depiction of what war can do to a soul. He spoke to me not as a highly decorated combat soldier of WWII and Korea, but as the scared 19-year-old kid of 1944.
Dad said, "I bet you wonder why I didn't hug you as much growing up, huh?"  I didn't say anything. Then Dad continued "Well…all those who I loved and were killed in France in the summer and in the winter in Belgium. If I loved you too much, I feared I'd lose you too."  Finally, at that moment a connection between us sparked a bond that has grown day by day.
Also at that moment France became a siren call to me, beckoning me to its land and its people. Dad had always said that the faces of the kids and their innocence restored his spirit. "The people treated us so well, with such love and devotion. You really felt like a movie star." I had to return to France in his place.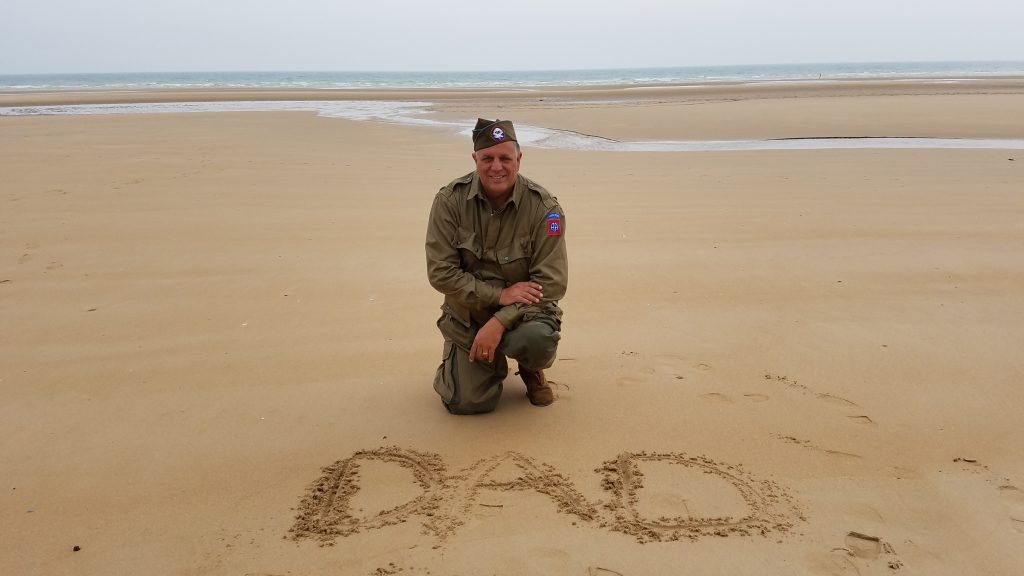 Then as I was finally getting to know my father and connect with him, he died on of all days… June 6, 2002.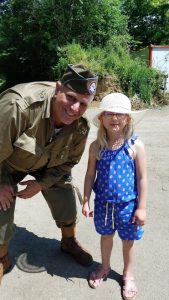 On my recent trip to Normandy, all along my tour, when the people of Normandy realized I was a son of a WWII veteran, they greeted me with warmth and emotion, as if I was one who had liberated them. It was so emotional and uncomfortable. I had done nothing, but what I represented meant so much to them — the legacy of liberation. I was hugged and kissed, given free drinks, lunches, and dinners. It was remarkable. On homes flew the American flag alongside the French tricolor.  The French remembered. Their children remember.
As I was visiting the famous location of the 101st Airborne, a great-granddaughter of one of the manor (farm) owners came running up to me. She must have been 6 or 7 years old. Her arms were outstretched calling to me "Ami, Ami" (Friend! Friend) and she leaped into my arms. She was so excited to meet an American. As she hugged me, it was as if an angel held me. Then I thought of my dad, how he and other soldiers told me it was the kids who saved them from the horrors of war.
If you want to really see the greatness of America look into the face of a French child. It will tell you that the sacrifice was all worth it.
This post was authored by: