This week marks the 75th anniversary of the D-Day landings. Just like our friends in Normandy, we are going to take some extra time this week to listen to the story of a veteran. Today, we share part one of Arthur Schultz's story, lovingly shared by his daughter. He was a paratrooper that participated in D-Day, and his story has a unique twist. 
This is the 1st post in a series. Check out Remembrances of D-Day Part 2 and Part 3!
---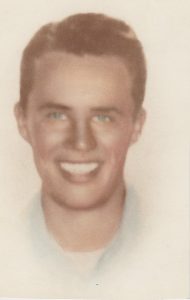 "Hut – two – three – four.  Hut – two – three – four," the cadence of my childhood with echoing footsteps on worn wooden floors.  Memories of a spindly, pale child with purplish under eye circles marching behind her athletic paratrooper dad.  Up and down the narrow Philadelphia rowhouse steps, past the shoebox-sized bedrooms, the stark no-sink bathroom, and the musty coal bin. The six-year-old girl's mission was to not give up, just like her Dad.  In 1952, my father was in his late twenties and still had the physique of the welterweight boxer and baseball player he once was. Tall, with mercurial blue-green eyes and light brown hair, Dad had a rakish smile that charmed every woman he met. 
What I didn't know growing up was that my father had been the boxing champion of his 82nd Airborne Division, and a combat survivor of the European Campaign in World War II, including the bloody and confused D-Day landings and nightmarish Battle of the Bulge.  My father, Arthur Schultz, had enlisted in the Army in March 1942. After basic training at Camp Wallace, Texas, he was assigned to an anti-aircraft unit protecting the Navy yard in Portsmouth, Virginia. He soon tired of this duty, wanting to get into a combat situation and volunteered for the paratroopers in the summer of 1943. After jump school, he joined the 82nd Airborne in December of 1943 in Belfast, Ireland. Eventually, he was assigned to C Company of the 505 PIR in Camp Quorn, England where he trained for the June 6, 1944, D-Day jump.
To me, he was just Daddy and my hero. Our marching game was a small part of what I knew of my father's war during my childhood because Dad was silent about his negative war experiences. Only later in my life did I realize that his war wasn't all fun and games.  The traumas he experienced during his combat years would haunt him for decades. My youthful view of his war was further blurred by the portrayal of his "not-so-traumatic" D-Day experience on the big screen, so back then I had little understanding of the impact of World War II on my family.
My father, Arthur "Dutch" Schultz, had his Normandy experience portrayed in the 1962 epic movie The Longest Day, based on the bestselling book about D-Day by Cornelius Ryan.  The glossy film program, distributed at the ornate Philadelphia premiere, anointed my father as the citizen soldier symbolic of the 73,000 Americans who participated in D-Day. I sat in the audience at the glitzy showing that year; he stood handsomely and expensively suited on stage the object of the accolades.  The audience cheered lustily for him. That movie would influence my perception of Dad's war for decades.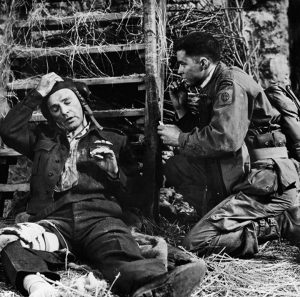 The Longest Day depicted Dutch Schultz as an eager, confused, and sometimes clueless 82nd Airborne paratrooper who landed behind enemy lines far from his drop zone.  In a memorable scene Dutch, portrayed by a hyperactive Richard Beymer, won twenty-five hundred dollars in gambling winnings the night before D-Day. Right then a letter from his mother arrived containing rosary beads, which fuels his fear of certain death if he pockets the illicit gains.  Further scenes show Dutch hanging in a tree, his parachute stuck then after freeing himself wandering, sometimes alone, far from his drop zone. All seemed to end well, however, with my "father" eventually finding and joining troopers from the 101st Airborne. The final movie moments find the young trooper sitting and smoking cigarettes with a wounded RAF pilot, portrayed by Richard Burton.  Burton aptly sums up D-Day with a classic line from the movie, "I'm hurt, he's dead, and you're lost."  To me, Dad's war did not seem so bad, it was in black and white, not very bloody. He seemed pretty relaxed at the end of that fateful day.
I belatedly became aware of how the reality of my father's experience on D-Day differed substantially from the movie version. The celluloid version portrayed in The Longest Day had colored my perception of Dad's war for decades but was not accurate.
Continue reading in Remembrances of D-Day – Part 2.