We conclude our remembrance of D-Day with the rest of Dutch Schultz' story. He finishes his account by sharing the confusing and loss her observed. Carol also shares how his experiences during the war changed her father for the worse and for the better.
This is the 3rd and final post in a series released this week. Go back and read Remembrances of D-Day part 1 and part 2.
---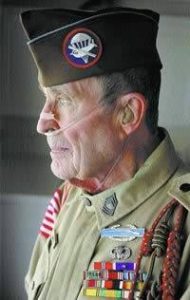 We start where we left off; with Carol Vento's father sharing the story of his personal experience on D-Day:
There was a total lack of organization. Our Battalion Commander, Major Kellam, had been killed in the morning. Our Battalion Executive Officer, Major McGinty, was also killed. Two or three of the Battalion staff officers were also killed. Captain Stef had been seriously wounded, our Company Commander. All of our Platoon Leaders were wounded except one. Most of our Assistant Platoon Leaders were wounded. I didn't see any officers or senior NCOs. Most of us that were in this group were in combat for the first time.

We were headed for La Fiere Bridge, which spanned the Meredet River. This bridge was on the Ste. Mere Eglise to Picauville Road, close to Manor La Fiere. That was where we were supposed to be. I don't remember being at the bridge on the first day. I do remember an awful lot of gunfire. I remember being exposed to an awful lot of mortars coming from the Germans. I did not see anybody that afternoon that I knew except General Gavin in the late afternoon. General Gavin took charge right away. He started gathering us together, newcomers like me. 

He proceeded to assign us locations along the railroad tracks. We dug in foxholes and spent the night there. I have never in my life heard anything as eerie as an 88mm artillery shell. They hit before you even hear it. They have this horrible sound as they hit. Sometime during the night, I heard one of these 88s come in, and it had struck a foxhole or two because I heard this horrendous screaming and screaming and screaming. It seemed like it lasted eternally. I know it was further down the line. I don't know who it was who got hit. I know that I was alone by then. I didn't know anybody. I was in a hole next to somebody, but I didn't know him. I'm not sure that I got any sleep that night. If I did, I don't recollect it.
My Dad was recognized as a hero, but he never identified as one. He left the killing fields of Normandy, Holland and the Bulge but they never completely left him. Dad hid the memories except in the still of the night. Then he would revisit the horrors of war in his dreams, bolting out of the sweat-soaked bed, firing an imaginary machine gun and alerting his buddies of the enemy. During the daytime, the repression of his memories took its toll leading to my Dad's functional alcoholism, which led to my parent's divorce when I was 12. Dad soon hit bottom, losing his family and then his career as an Army counterintelligence agent.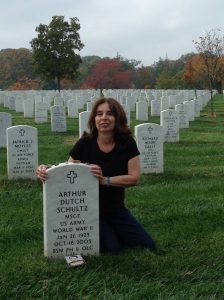 Luckily, Dad became a "recovering alcoholic" at 40 and remained sober until his death at 82. Like so many soldiers, the VA didn't help with his PTSD, leaving him to find his way on his own. He used his story and his experiences to forge a new career path, directing alcohol and drug addiction programs to assist others in overcoming their demons. Dad's PTSD was a constant companion for the rest of his life, but it allowed him to guided others. His last job was as director of the alcohol and drug program at Fort Irwin in California.
My father returned to Normandy for the 40th Anniversary of D-Day. He was overwhelmed by the kindness and gratitude of the French. He visited the graves of his fallen buddies and broke down sobbing. When Dad recollected his D-Day, he noted, "This baptism of fire was beyond all expectations I had about what war was like. It was a horrible experience. I'm ever, ever so grateful that I had the experience. I feel that I served with some of the bravest and most courageous men of WWII. For that, I'm ever so proud."