Happy Veterans Day!
This Veterans Day, instead of just saying "thank you for your service," we thought we would get to know this fantastic group. Here are five things you may not know about veterans.
1. Veterans in America
For 2020, the Veterans Administration (V.A.) estimates there are 19,541,960 veterans in the U.S.



* A special shout out to the 2,312 estimated Pre WWII veterans included in this total.
_____________________________
2. Veterans by State
Here is a map showing where most of our veterans live by state.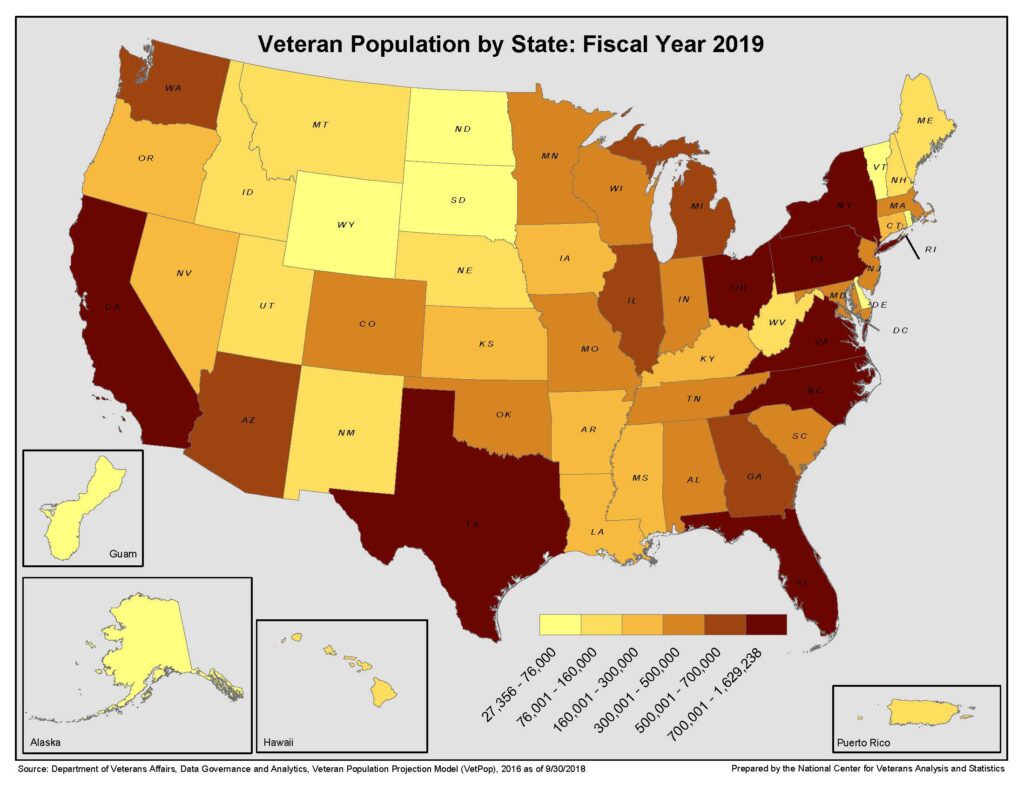 _____________________________
3. Veterans by Branch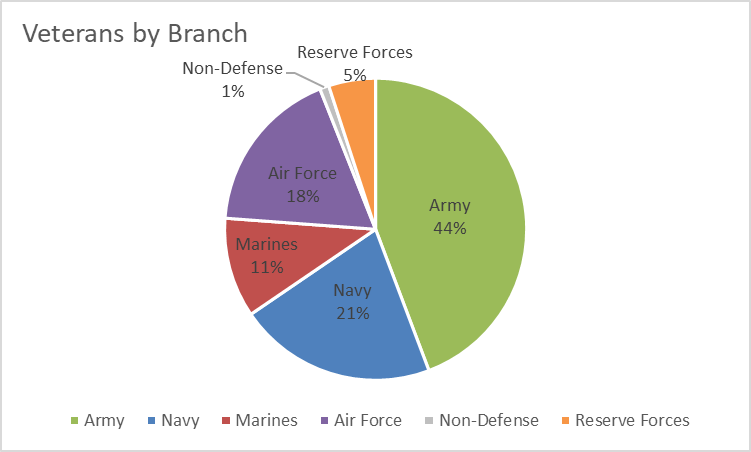 _____________________________
4. Veteran Businesses
The Small Business Association estimated that in 2012 there were 2.52 million business owned by veterans. These businesses were responsible for $1.14 trillion in annual revenue that year.
_____________________________
5. Challenges for Veterans
Historically after every conflict, it has been challenging for some veterans to return to civilian life. These challenges continue today for our newest veterans. Experts estimate that veterans made up 8% of the homeless population in 2019 alone. This is a decrease over the last ten years, but the challenge remains.
Veterans from various conflicts also struggle with a variety of health issues related to their military service. These include PTSD, brain injuries, and physical disabilities. Most distressing is that we have seen an increase in the rate of suicide among our veterans. In 2019, 17 veterans per day took their life, which is 1.5 times the national average. All of us at The Girl Who Wore Freedom take this issue seriously, and we encourage our veterans who may be struggling to seek help. If you have nowhere to turn, call the National Suicide Prevent hotline 800-273-8255 or try veteranscrisisline.net.
---
We know that many of our readers may not know a veteran personally, so we wanted to share with you some of the challenges and contributions of this unique portion of our population. In 1980 veterans made up nearly 18% of our population; now the number is closer to 7%. There are only 1.3 million active-duty service members, which is less than 0.5% of our total population. These brave men and women are tomorrow's veterans. If we continue to ask so few to do so much, we owe it to them and those that served before to address their needs.
The Girl Who Wore Freedom team wants to honor all those who served and are currently serving. We have team members working to capture your stories in honor of your service. We invite veterans and active service members to visit our subreddit at r/Normandy_Project to share your stories.
Thank you for your service, and we are listening!