Last week we shared Christian's visit to the Movie Proposal Podcast from Spring of 2018. At that point, she was raising money and looking for volunteers just before leaving for principal photography in Normandy.
A year and a half later, the rough cut of the film is complete. We are hosting focus groups and fundraising events around the country. We have high hopes of raising the finishing funds that will enable us to kick off our film festival run in 2020. Our production company has grown, and our film is nearly complete, but we are still seeking volunteers and donations. It has come to our attention that our ongoing needs are confusing to many of our friends and supporters.
In emails, online, or at events, fans have reached out with the same questions, over and over again. Well … you've asked, and we have the answers you seek! This week are kicking off a new blog series called,
"Ask Christian!"
We'll start with some of the most common questions.
1. Why isn't the film done yet?
Like a fine wine that gets better with age … good films take time! Making a film is a complicated and time-consuming process. Several factors dictate the production timeline: the story, the funding, the amount of footage that you have, and any number of complications that crop up along the way. If you've seen Lost in La Mancha, you know what I mean! One of the biggest impediments to finishing an independent film is the lack of funding. Traditionally, the more funding a production company has, the faster and more efficiently the film production goes. The Girl Who Wore Freedom is an independent film funded through donations from people who believe in our story. We can only move forward as the funding allows. 
2. Didn't you raise a bunch of funds already? Why are you still raising funds?
Great question! It is expensive to make a feature-length, dual language film that takes place on two continents! Our film is an "independent film" so this means there is no big Hollywood studio money behind the film. The Executive Producers, who believe in The Girl Who Wore Freedom, initially funded it through their personal funds. Hundreds and hundreds of other people from all over the world have donated to the cause.
TGWWF has received about $100,000 in donations over the past 18 months. That money has been used to cover our pre-production expenses such as promotional materials, legal fees, creation of our LLC, editing and creating of marketing materials. These funds also covered principal photography costs. Expenses included travel to France, paying our 12-person crew to live and work for 30 days,  shipping our equipment, insurance, ground transportation, and communication fees. The editing, audio, color correction, and visual effects were needed to get ready to show in Normandy this past June. This was also covered by these initial donations.
3. I thought you were using volunteers for this film. How exactly will my donations be used?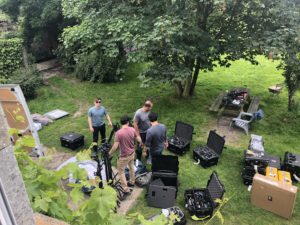 Making the film far exceed the donations to date and so a gap remains. With independent filmmaking, one way to overcome the funding gap is with volunteers. For example, if an assistant editor typically costs $300 per day, but a volunteer does the job for free, then that volunteer saves the production company $300 per day! TGWWF has a staff of 15 volunteers. Their work helps save the production thousands and thousands of dollars on administration, social media, web service, translation, research, and writing costs, just to name a few.
We are raising money to pay for our post-production expenses, like additional editing, audio, color correction, and visual effects. Plus, we need to secure the licensing rights to use archival footage, legal fees, insurance fees, marketing fees, and more.

4. Where can I watch this? Will this be on the History Channel someday or Netflix?
The film isn't completed and is only in a rough-cut stage. Right now, the only way to view The Girl Who Wore Freedom is by attending one of our focus groups/fundraising events. After the film is finalized, we plan to enter The Girl Who Wore Freedom into film festivals around the world. After our festival run, we anticipate signing a deal with a distributor who will then license our film to different outlets, like cable channels and streaming services. 
5. Isn't it a bad idea to be showing this film so much when it is not finished?
Absolutely not! First of all, the feedback from our focus group events has been instrumental in helping us make our film better. Second of all, our eventual buyer is not an individual. The final buyer will be a distributor that works with a streaming-on-demand or other type of media company. These companies will want to know, do we have an audience? Can we show that interest and passion exist for this project? These focus group events tell outsiders a lot about the project. The location, attendance, the number of events, and our growing social media presence demonstrate there is a market and an audience for this story.
6. I have a relative with a story to tell. Can they get in the film too? Who can I share their story with?
We love hearing stories about WWII veterans! At this time, we have completed our interview filming for this project and are not able to include any more stories in our film. However, we do have another avenue for capturing and preserving stories for posterity. That avenue is The Girl Who Wore Freedom Blog. We love having friends and family members of WWII veterans capture and share the veteran's story by way of a blog post. Please email info@normandystories.com if you'd like to share your story with us.
7. What are the steps/phases for making a film? Where is the film currently in the process?
We will answer this question and more, next time.
---
Thank you for your questions and your support. If you would like to join our volunteer team, please contact us at info@normandystories.com. If you have a question, please leave it in the comments below?