Janie Miller and her husband, Bob, became supporters of The Girl Who Wore Freedom when she came across a social media post from our Facebook account. Both of their fathers served in World War II, so honoring soldiers and telling their stories is their passion. Bob Miller shared his father's story with our team in April 2019. We are so thankful that now Janie is sharing her parents' correspondence from World War II with our readers.
---
Stacks of V-Mails (Victory Mail) and "Airs" (Airmail) found in my parents' attic took me on a fascinating journey through their 2-year separation during WWII. My father, Captain Harry A. Crosswell, was a US Army dentist with the 43rd General Hospital Emory Unit. He was stationed from 1943-1945 in North Africa, Italy, and southern France, treating battle dental injuries. My mother, Mary Jo Brownlee Crosswell, was a young bride and new mom. She was living at home in Atlanta, GA, caring for their infant son.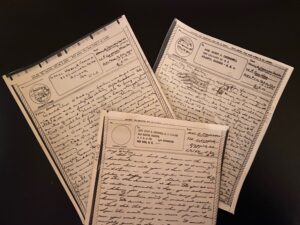 The correspondence was prolific, often with 2-3 letters being sent by each of them every day. Their written words ran the gamut from the details of their everyday lives to the major headlines of the day.
August 1943
"Please let me know which kind of mail suits best, I'm trying them all. It would be hard to count the times I have read and reread your letter trying to make a little something out of every sentence, but it isn't easy. … Perhaps when you reach your destination you will be able to tell me a little more about where you are, where you have been, and what you are doing. … My morale is going to be harder to keep up than yours, I believe. If I can just live for the minute and not let my mind wander into the past or the future, it will be easier."
Mary Jo B. Crosswell, August 16, 1943, Atlanta, Georgia

"We are headed for North Africa, in case you don't already know. … I imagine even the crowded boat conditions will seem a paradise soon. … Can you realize that one year ago tomorrow I entered the service? Wonder where I'll be this time next year. Hope I'll be back with you, but one never knows. … Day by day, I know less and less about what is happening."
Harry A. Crosswell, Date: Censored, Location: On a ship crossing the Atlantic
A dominant theme was how they missed each other so and hoped to be reunited soon. My parents were apart for two years of birthdays, anniversaries, Thanksgivings, Christmases.
October 1943- 2nd Wedding Anniversary
"I never dreamed that I could do such a marvelous job of picking a husband, and I might add a father for my little boy. Our marriage is even more perfect now that we have him. The only imperfect thing about it is our separation and that will take care of itself in time."
Mary Jo B. Crosswell, October 17, 1943, Atlanta, Georgia

"We are, in the dental setup, supposed to start taking patients Wed. … Today is the day I shall always cherish. I trust you are well and happy. My love for you always…"
Harry A. Crosswell, October 17, 1943, North Africa
Christmas 1943
"Here's wishing you a Merry Christmas, My Darling, but most of all- and I never meant it so thoroughly in my life- a Happy New Year to us both."
Mary Jo B. Crosswell, November 16, 1943, Atlanta, Georgia

"Do you remember two years ago this afternoon when we were out at the river? The radio blared forth the shocking news that we were victims of a Japanese bombing raid on Pearl Harbor. Little did we know just what the full significance of that cold announcement was, perhaps it was best. Let's hope that I can think back like this with you in person next Dec. 7th.
Harry A. Crosswell, December 7, 1943, 1:05 p.m., North Africa
Summer 1944
"Really good times are rare things in my life these days, but tonight 'Mama' stepped out and had a wonderful time. I have laughed until I'm right weak. … At supper, Mother reminded me that we had invitations to a show being given at Davison's by the store and the Coca-Cola Company. It was an army show called 'This is the Army, Mrs. Jones.' … They had some wonderful voices and the comedians were priceless. Each act was just as clever as it could be. …he gave a commercial for some brassiere company whose motto was 'together we stand, divided we fall.'"
Mary Jo B. Crosswell, June 24, 1944, 11:15 p.m., Atlanta, Georgia

"Still aboard the "Shamrock" headed for most any place but home, I'm afraid."
Harry Crosswell, July 6, 1944, 3:30 p.m., on a ship in the Mediterranean

"Well, here we are with another country to see. From the little we've seen it has Africa beat all to hell."
Harry A. Crosswell, July 9, 1944, 6:30 p.m., "Somewhere in Italy" (Naples)

"…good news of the new invasion. I've been waiting and hoping for this because it brings you and home ever closer." (Invasion of Southern France)
Harry A. Crosswell, August 15, 1944, 1:20 p.m., Naples, Italy

"The news I just heard takes the wind out of my sails some. It seems that they were mistaken about Paris being completely liberated. I guess it won't take long, however."
Mary Jo B. Crosswell, August 24, 1944, 12:30 p.m., Atlanta, Georgia
December 1944
"Yes, darling, I too look forward to that Christmas Eve together. That is a promise I'd love to keep next year."
Harry A. Crosswell, December 28, 1944, 6:03 p.m., Marseille, France
Winter 1945
"My radio is going upstairs and I can hear the president taking his oath of office for four more years. … (Young) Harry just brought me a piece of 'tandy' and wanted the cellophane unwrapped. I wish you could see his face when he says 'please ma'am' and then 'thank you.'"
Mary Jo B. Crosswell, January 20, 1945, 11:15 a.m., Atlanta, Georgia
Neville James was my father's long-time close friend. He had fought since Normandy but became a POW at the Rhine in March 1945.
"Have just been sitting here, listening to the news. It is too wonderful, if things just keep up as well. With three Rhine crossings in the past forty-eight hours, things are looking much better. Still, I try my best to keep my enthusiasm down. It would be so terrible if Neville is gone and has missed seeing the victory by such a short time after fighting so long and so hard for it. He just must be safe. If he is a prisoner, it may be that he will soon be freed."
Mary Jo B. Crosswell, March 23, 1945, 9:30 a.m., Atlanta, Georgia
Hope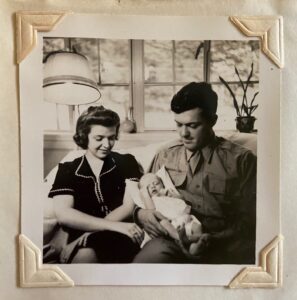 My oldest brother had gone from being a newborn to being twenty-eight months old. He was just over six weeks the last time my father had held him.
"(Little) Harry really talks and can converse. … We are out on the porch now and he is walking around rolling his eyes at me and saying 'Mama Jo Jo' in a very mischievous way."
Mary Jo B. Crosswell, March 28, 1945, 2:30 p.m., Atlanta, Georgia

"I had the terrible news about Neville. May the good Lord see fit to have him as a prisoner of the Germans, but I'll tell you frankly that my hopes are hardly as strong as the fears for the worst. I haven't had anything hit me so in all my life."
Harry A. Crosswell, April 1, 1945, 11:45 a.m., Marseille, France

"Neville has been released! A few minutes ago your father phoned me that William (?) had just phoned him that the Associated Press had called him to tell him that Neville James, a prisoner of the Germans, had been released."
Mary Jo B. Crosswell, early May 1945, Atlanta, Georgia

"Expect to be home soon. Don't write further. Will contact you on arrival."
From Harry to Mary Jo, August 24, 1945, Western Union Telegram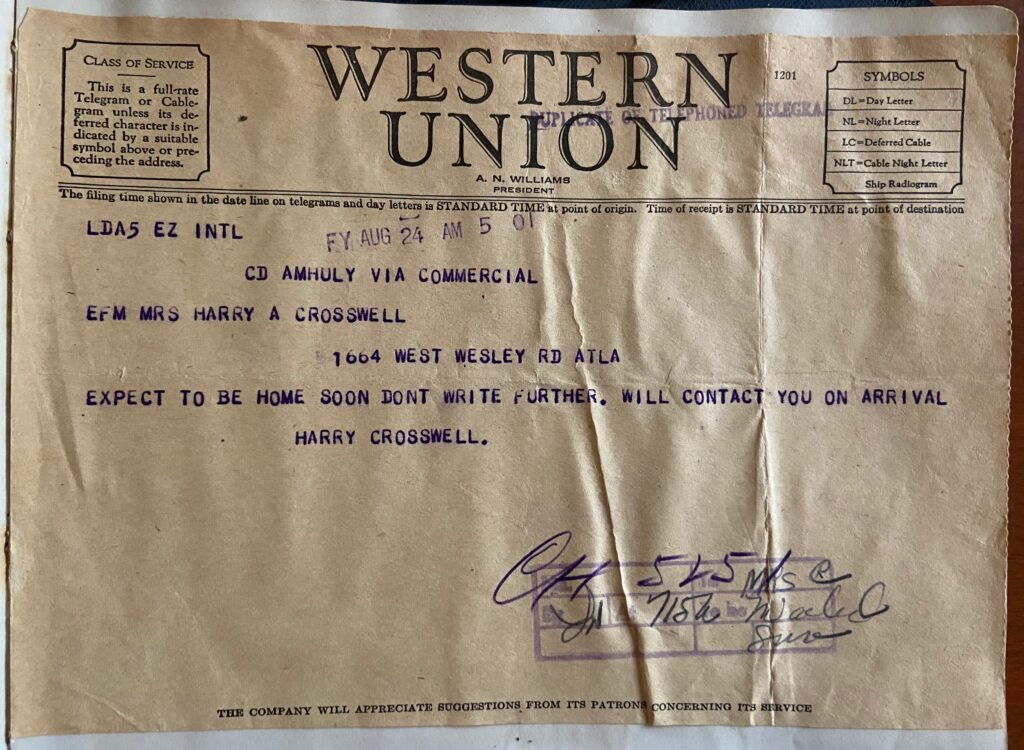 After over two years of separation and countless letters back and forth across the Atlantic, my father and mother were finally reunited in September 1945. The prolific correspondence to each other to stay "together while apart" came to an end as they began the rest of their lives side by side.
For as long as they lived, though, their love of letter-writing never ceased. Distant family and friends were the fortunate and frequent recipients of stories of their daily lives, the mundane and the trivial, along with the extraordinary and the significant. How grateful I am for their written stories of love and life during WWII and beyond! Everyone has a story, especially those who serve or have served to protect our freedom. Listen to their stories. Respect their sacrifice. Honor their service.