Last week Janie Crosswell Miller introduced us to her parents, Harry and Mary Jo Crosswell.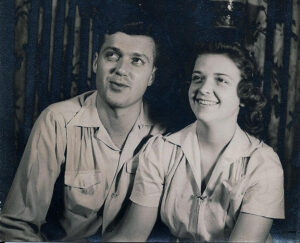 Their story is like so many families from this era that faced long separations because of the war. Their commitment "to remain together while apart" is an encouraging reminder of what is possible even in the most challenging of circumstances. Harry and Mary Jo's correspondence also gives us a front-row seat to the history they were living. This week as we draw near to the 75th anniversary of World War II ending, we will look closely at several significant events as captured by those who lived it. Many thanks again to Janie and her family for sharing a portion of their family history with us.
Pearl Harbor
"Do you remember two years ago this afternoon when we were out at the river? The radio blared forth the shocking news that we were victims of a Japanese bombing raid on Pearl Harbor. Little did we know just what the full significance of that cold announcement was, perhaps it was best. Let's hope that I can think back like this with you in person next Dec. 7th.
Harry A. Crosswell, December 7, 1943, 1:05 p.m., North Africa
Roosevelt's Historic Fourth Term
"We heard this morning that Dewey conceded to Roosevelt."
Harry A. Crosswell, November 8, 1944, 12:30 p.m., Marseille, France
"My radio is going upstairs and I can hear the President taking his oath of office for four more years. … (Young) Harry just brought me a piece of 'tandy' and wanted the cellophane unwrapped. I wish you could see his face when he says 'please ma'am' and then 'thank you.'"
Mary Jo B. Crosswell, January 20, 1945, 11:15 a.m., Atlanta, Georgia
D-Day
"The first break has come in the news broadcasts since I have been up so I will get a few lines to you. I have been sitting with my nose in the loudspeaker…with each word of this The Invasion. … (Little) Harry was up at five this morning. He must have known something was up. I hope there will be as little tragedy as possible in this great action."
Mary Jo B. Crosswell, June 6, 1944, 8:30 a.m., Atlanta, Georgia
11:21 a.m. "After Eisenhower's talk this a.m. I've found it impossible to keep my feet on the ground. There is a such a long struggle ahead that I will be disappointed many times, I know, but at least I feel that I have something to work toward."

5:00 p.m. "We are having a special church service tonight to commemorate the undertaking. I shall go and lend my humble prayers to the outcome (successful) of the big show. … We have spent the day over the radio. When news flashes would come on, we'd leave patients and dash for the lab.

6:17 p.m. "Ike didn't go into this game for fun or for turning back. He is definitely playing hardball I feel certain. … It has been more than an effort to keep my mind on dentistry. We had a radio in the lab and every time a flash would come, we'd drop the patient where he was. We first heard the news at eight this a.m. At approx. 9:30 am Ike gave his message, which thrilled me to the core. Monty's recording was given on the 6 p.m. news just now. … At 7:30 we will have a church service. Ed and I intend to go. Certainly, the least we here can do is give them our prayers for their safety and early victory."

9:30 p.m. "I listened to King George on the 9:00 broadcast… According to Churchill, all is going satisfactorily. … Our local stations will broadcast until midnight tonight, guess here, as all over the world, there will be groups huddled around radios for last minute details. May it all go well with a minimum of lives sacrificed. … The Bob Hope Show is on right now and grabbing for my attention. Excuse me for a minute, the show is starring Ella Logan. … Oh, for a good and thorough raid on your Coca-Cola supply- a glass filled with crunchy ice, maybe a little lemon just for old times' sake. Instead of a glass, let's make it one of our silver goblets." (Their goblets were a wedding present and family heirloom.)

10:27 p.m. "I've been impressed by our turning to prayer in this great hour, King George and Pres. Roosevelt both fostering them. It has indeed been a great day. May God bless all those in the terrific battles to come, with everlasting peace to soon follow."
Harry A. Crosswell, June 6, 1944, North Africa

"Your letter (Air) written the day of The Invasion came this morning, also your Air of the day following (the seventh). I have been so anxious to get those letters and was thrilled that they came through in such good time. … I wonder if you listened to the President's prayer the night of the sixth, and I wonder if we heard it at the same time." (Harry send four different V-Mails and one Air-Mail to Mary Jo regarding D-Day.)
Mary Jo B. Crosswell, June 12, 1944, 7:45 p.m., Atlanta, Georgia
Cost of the War
"We left here early on Thursday. …were steadily getting into the war-torn areas. … wrecks, burned-out tanks, planes, cars, trucks… You'd be sobered and saddened by the sight of those tragic little white crosses… I bleed from within at the thought of all the good men we lost… The price must be paid but if our aims are achieved perhaps, we can justify the cost but oh so slightly."
Harry A. Crosswell, August 12, 1944, 10:25 a.m., Naples, Italy
"We went first into a beautiful chapel…and you wonder as you break your neck craning it toward the ceiling just how this was all accomplished…rushed to see His Holiness…left to peak into the Basilica… most magnificent structure of its kind…buildings dating back to the time of Christ…ruins going back way before. … We saw a most appalling sight, the stacked bodies of over 300 Italians murdered by the Germans… I was sorry that I didn't take this shot for the sake of future arguments with those who say that 'such couldn't happen.' …hiding places of the early Christians…birthplace of Toscanini…"
Harry A. Crosswell, August 12, 1944, 2:50 p.m., Naples, Italy
President Roosevelt Dies
"Our flag is at half-mast this morning because of Roosevelt's death. There wasn't the slightest breeze to stir the mournful droop either."
Harry A. Crosswell, April 13, 1945, 8:50 a.m., Marseille, France
Victory in Europe
"Well, I really don't feel much difference in my mental set-up with V-E Day here, but I am thankful for it, however."
Harry A. Crosswell, May 8, 1945, 11:45 a.m., Marseille, France
"This has been quite a day so far as the radio is concerned…since the President made his speech at eight this morning. … In some cities, there was a somber atmosphere with little celebrations, and in others, there was cheering, flag-waving, paper throwing, and all that goes with it. … I hear that it is quite something in Paris now. … This day just can't mean the same thing to those of us here as it does to places like London and Paris where the terrors of war have been so real for so many years. All along I have said that I thought that the worst, hardest, longest time of all would be the time following the end of the German war. That, I believe, is going to be true. This waiting and not knowing what to expect will make the time go more slowly than it has in the past. I just hope that it won't be too long before you know what will be done with you and whether you can expect to come home soon or whether it will still be a long, long time."
Mary Jo B. Crosswell, May 8, 1945, 2:30 p.m., Atlanta, Georgia
Liberation of the Camps
"Parker gave us a very interesting discussion of some of his work on the atrocities team. … He was at Dachau. … It is amazing that anybody at all lived through such nightmares but they did. The will to live is indeed strong in some men. … They had a 'shower room' to which the victims would be ordered for a shower…but from the showerheads came lethal gas instead of water. … I hope to high heaven that everyone in the States can be made to believe that such is not a wild dream of a pulp magazine writer."
Harry A. Crosswell, June 9, 1945, 5:20 p.m., Marseille, France
You can feel the weight of their life and times when Harry writes, "I was sorry that I didn't take this shot for the sake of future arguments with those who say that 'such couldn't happen'." These moments in time, captured through their letters, bring to life what, for many, are just pages in a history book. History is alive; made every day all around us and by each of us. We are still writing our history, and there are many stories yet to tell.
There is still more of Harry and Mary Jo's story too. Next week, please join us when we will remember the end of World War II through their letters and learn the rest of the Crosswell's story.