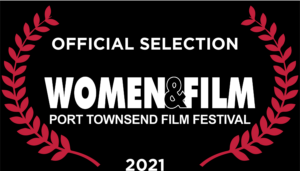 Port Townsend Women & Film Festival took place April 23rd- May 2nd and featured more than 16 films and filmmaker interviews. Single tickets were available April 23. Unlimited passes were available for $45. Click here to purchase tickets.
The mission of the Port Townsend Film Festival is to spark community by connecting filmmakers & audiences! Films were screened from April 23rd – May 2nd. Q and A with director Christian Taylor followed screening of The Girl Who Wore Freedom. The PTFF believes in sparking community by connecting filmmakers and film lovers. The 22nd Annual Port Townsend Film Festival has been called "the Sundance by the sea" for outstanding programming, legendary hospitality, and our enthusiastic and welcoming community.
The Girl Who Wore Freedom won the 2021 Port Townsend Women & Film Festival Audience Award.