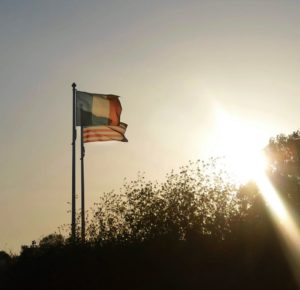 Friendship is a recurring theme that weaves through The Girl Who Wore Freedom. You can see the friendship that evolved between the young French children and their liberators. There are the friendships that have grown between the people of Normandy and the veterans that return to remember and celebrate. There is a connection between our two nations, which goes back further than the liberation of France during the war. This friendship between our countries goes further back than the Statue of Liberty, which was given as a gift in 1886, or the Louisiana Purchase in 1803. Our friendship goes all the way back to the very beginning of our country.
As the delegates of the Continental Congress began debating their independence from Great Britain, they all understood they would face the most significant and effective military of that day. It was acknowledged early on that the colonists would only be successful if they could secure the support of other countries, primarily France. In November of 1775, the delegates formed the Secret Committee of Correspondence which was tasked with beginning diplomatic communications requesting foreign support for American independence. Four months after the Declaration of Independence, a small delegation led by Benjamin Franklin sailed to France seeking their aid.
The French helped in small ways at first, supplying arms and gun powder. It is believed that when the Continental Army won the Battles of Saratoga in the fall of 1777 that 9 out of 10 of our troops were fighting with French munitions. In February of 1778, we signed two treaties with France: The Treaty of Alliance and the Treaty of Amity and Commerce. The two accords marked the official partnering of the French as our allies against the British and their formal declaration that the United States was a free and independent nation. At this point in the War of Independence the Continental Army, with the aid of their new French allies, began to turn the tide.  Victory seemed possible. When British General Cornwallis surrendered at Yorktown on Oct. 19, 1781, he marched through a corridor of soldiers with the Americans on one side and the French on the other.
Our friendship with the French has been the framework on which the Normandy Stories project was built. The French people's love for America first piqued Christian Taylor's interest. Their hospitality and friendship welcomed her into their homes and their stories.
Through these friendships, she discovered incredible gratitude and grace, changing her and all of us that have been lucky enough to hear their stories.
This June while we celebrated the 75th anniversary of the D-Day landings with our friends, Christian and our fantastic crew were able to host 11 focus group events at 5 different venues. Each event was unique, challenging, and deeply emotional. There are many, many stories to tell from our time in Normandy which Christian will be sharing on upcoming episodes of our podcast, Documentary First.
In the meantime, we thought we would collect and share images from our time in Normandy: