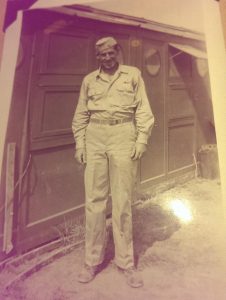 Our final story of a soldier in love is a little different than our previous two. Both Bernie Nygard and Allen Hopper were married men writing home to their wives and family. According to a New York Times article:
"In 1942 alone, 1.8 million weddings took place, up 83 percent from 10 years before. And two-thirds of those brides were marrying men newly enlisted in the military."
The article goes on to quote the Rev. Dr. Randolph Ray:
"three ceremonies in the morning and three in the afternoon represented a 'quiet midweek schedule' for him."
While the number of marriages may have increased during the war, not every couple took that path. The soldier in this story did not like the possibility of his love becoming a young war widow with no one to provide for her needs.
The story of how they met, probably at church, and when exactly they started dating is lost to time, but their family knows that by 1941 they were a couple making plans for the future. Frank Miller was quite a bit older and was already working in a factory making defense items helping to support his mother and sisters. Kathryn (Kay) Johnson had an older brother serving in the Navy and another brother soon joined the army. She worked and sang with a trio on the radio.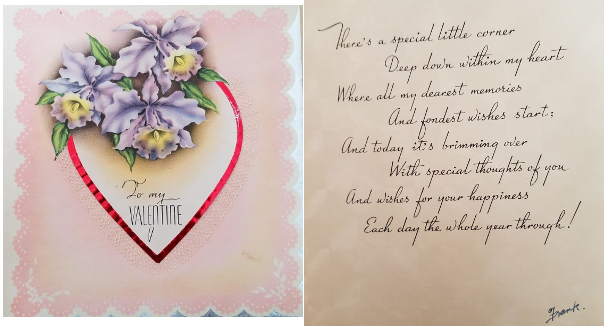 In January 1943, Frank entered the army at 34 and the couple thought it best to remain engaged, but not marry until after he was home from the war. As Frank went through his training and shipped overseas, Kay began to keep a scrapbook tracking his journey and documenting their time apart. Frank could talk about a lot of things, but sharing his feelings was hard. However, he always made sure Kay had a card and her favorite flower, an iris, several times a year. It could be her birthday, Christmas, Valentines, even Easter, he remembered them all. While the cards contained nothing but his name, the sentiment he chose each time is emotional and touching. Although not in his hand, I think Kay treasured and knew that these words came from his heart.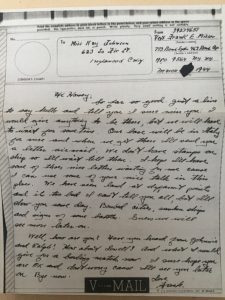 Making his crossing over the Atlantic, Frank writes a letter to send once he arrives at his base.
"Hi Honey; So far so good. Just a line to say hello and tell you I sure miss you. I would give anything to be there, but we will have to wait for some time … I hope I'll have some of those nice letters waiting for me, cause I can use some of your nice talk in this place."
He goes on to share some of the destruction and signs of war that he had already seen, and how he wishes he could share more.
Then there is this telegram:
"You are more than ever in my thoughts at this time. Very happy to hear from you dearest. Am fit and well."
There is not much in these notes and there are not a lot of them, but they do tell a story. A story of a couple, young and in love, choosing service and sacrifice first, because it was the right thing to do. It tells me about a whole other vibrant life with hopes, dreams, and love. I never knew this couple, because the couple I knew was older. Frank fell asleep in his favorite chair while watching the tv and listening to the Dodgers on the radio. Kay would wake you in the morning, singing hymns as she cooked breakfast. They were my grandparents, Frank and Kay Miller.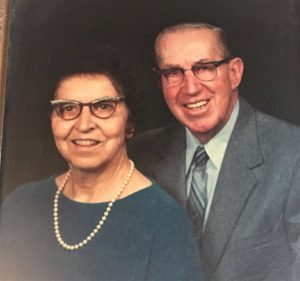 I am sure there is much, much more to their story. They were young and in love, they saw war and peace, they raised a family and lived a life.  They are not so different from me. I never got the opportunity to ask them all my questions and learn more of their story. They were both gone before I had the time or the inclination. All I have is a couple of fading scrapbooks. I am sure that's why The Girl Who Wore Freedom resonates with me so much. Through stories, like theirs and others, we learn from the past and are inspired to live as they did, willing to serve and make a difference where ever we can.
This post was authored by: