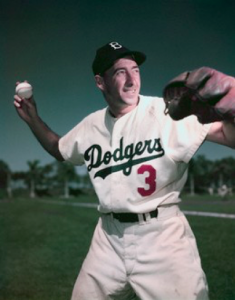 He was nothing special, a typical ball player getting ready on the field. A third baseman. He was 29. It was a special All-American summer day.
It was the Fourth of July 1949.
The Brooklyn Dodgers were playing a doubleheader against the Phillies, as most teams did back then, and Billy Cox was getting ready to play two. What he wasn't ready for was the flashback of WWII in a seemingly bucolic Brooklyn day in front of thousands at Ebbets Field. Cox served overseas with the 814 th  Signal Corps. He saw action in North Africa, Sicily, Italy, France and Germany. Often did US and German lines become mixed deadly, and desperate. While stringing communications wire between forward US lines and command posts just outside of Siegfried Line in western Germany, Cox and his squad became trapped between a small arms fire between US and German units. While they returned fire, and dug in deep, Cox and his squad were trapped between the opposing forces.
"What I remember were the sounds of the explosions and the small machine gun fire. It was all pointed at us…at me! You just react and hide. If I could crawl into my helmet I would have."
Still the 814 th continued to lay communications wire. "We still had a job to do. That what we were expected to do" Cox said. American artillery, and infantry drove back the Germans and as fast as it started, the peacefulness and stillness of the fields, the rustling of the trees, and cool winds rushed through the men of the 814 th. As loud as it was in combat Cox was equally disturbed by the loudness of the silence and the bodies of GIs and Germans lying all around some wounded and some dead.
"I just would live the rest of my life expecting something else bad to happen when it got quiet. I always had to have a radio on. Playing ball and the sounds of the stadium organ, the crowd, my teammates all just gave me a peace of mind. I can't explain it."
So as the Dodgers warmed up. Legendary Dodgers broadcasters Red Barber and Connie Desmond were preparing for the Dodgers broadcast when they saw Cox reduced to fear and the reality of the legacy of war. Legendary Dodgers voice Vin Scully remembers this event told to him by Red Barber… "Well before the first-game, Todd, players always stretch, play catch, and hit, run. On this 4 th of July, a group of kids threw a string of fireworks onto the field. That's what kids do."
Scully looked at me and his eyes swelled with tears and his voice broke in small and notable way.
"Todd, the Dodgers knew what he'd been though in WWII and when Red heard those fireworks, he says he saw 'a startled Billy Cox started running in from stretching in centerfield in a zig zag pattern panicked… looking back over his shoulders in a desperate, scared, and fearful run for survival. He dived under the dugout bench and stayed there for nearly 30 minutes. He wouldn't come out. Nobody in the stands paid any attention to this. Teammate first baseman Gil Hodges a veteran of combat at Okinawa ministered to Cox. Nobody in the press box really noticed, but Red saw it. It was so sad.'"
Billy did come out started at third for both games and the Dodgers swept the Phils that day.
This post was authored by: