Another year has passed for The Girl Who Wore Freedom team. We look back and see a fantastic adventure full of highs and lows in 2019, trying to finish our movie. Here are ten things we are thankful for this last year.
10. Finishing the film … well sort of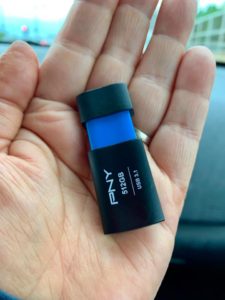 In May of this year, Christian left for the focus group events in France and shared a picture of a tiny thumb drive that held the last two years of work. While that version of the film was considered a 'rough cut' and still needed lots of work, the audience response was overwhelmingly positive. Since those events in France, we have made further edits and adjustments to create the version which we have been presenting this fall. While it looks like a finished film, there is still work that remains. As Christian shares at our events, "the house has been built, but all of the finish details and the decorating remain." All these remaining finishing details need to be completed before we take the next step, either entering film festivals or working with a distributor.
9. Editing and all the work behind the scenes.
Getting to that 'rough cut' version that we showed in France would not have been possible without a small group of incredibly talented individuals working behind the scenes. The initial edits began in early 2019. After viewing the very first version of the film, Christian found that the story had gotten lost.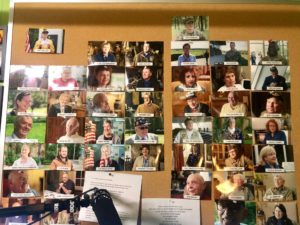 She then decided to travel to Tennessee and work directly with our editor Bill Ebel. That one-week trip turned into six weeks of editing and rewriting to bring the story to the surface. That left only a short four weeks for the other departments to finish their elements in time for the events in France. The post-production process, which can take a year or more, was completed in just 12 weeks.
8. Communication over vast distances.
The Girl Who Wore Freedom incorporates people and stories from two different countries. We have a team that lives in France and a team that lives here in the United States. In the U.S., our team is spread out across the country from east to west and north to south. We keep in contact through phone calls, emails, and video conferences. Looking back, we are grateful for the technology that allows us to work together while living so far apart.
7. Supporters
We have supporters following the progress of this project from all over Europe, North America, and even South America. Their passion and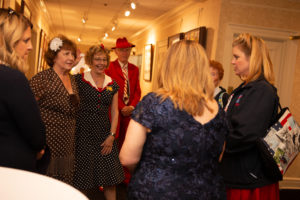 enthusiasm for this project have kept our team motivated when moving forward seemed impossible. In 2019, we dramatically increased our following on Twitter, Instagram, and Facebook. With the new video content uploaded each week, we are seeing a huge jump in our YouTube followers, too. We began the podcast, Documentary First, which gives our friends and supporters a peek at the behind the scenes process of making The Girl Who Wore Freedom. We are so thankful for all the different ways we connect with the friends and fans of the project. Your support demonstrates there is an audience for this story. Please continue to share our story with your friends and family online and leave us a comment; we would love to hear from you.
6. Stories
Stories are the heart of this project. The stories from the French survivors in Normandy inspired Christian to start this project and share their experiences with the world. From the Normans, we have learned the power behind honoring veterans by embracing their stories. This year we have encountered so many more stories still needing to be collected and retold. Looking back, we are thankful for the opportunity to share these stories on our weekly blog and everyone that volunteered to write an article. There are over 50 submissions from the last year, funny, sad, and inspiring. We invite you to take a look and consider sharing a story from your family or your service.
5. Focus Groups and Feedback
"The Girl Who Wore Freedom is a touching and highly informative documentary. This film is a must-see for today's generation and generations to come!"
While in Normandy this year, our team hosted 11 focus group events.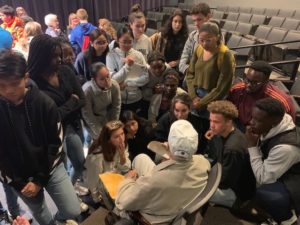 Then to honor the 75th anniversary of D-Day, we shared the 'rough cut' of the film online where several hundred more got a sneak peek of The Girl Who Wore Freedom. Back in the United States, we started with a focus group event in Chicago this summer and will finish up the year with one last event this December in McMinnville, Tennessee. So far, there have been 17 focus groups stateside with more 2,000 people seeing The Girl Who Wore Freedom. At every event, the response has been overwhelmingly positive and encouraging. Thank you for coming to see us and talk with our team. Your feedback has helped as we continue with our edits and get closer to the final version of the film.
4. Donors
From the very beginning, The Girl Who Wore Freedom has been a grassroots project. Our team organized fundraisers, auctions, and online campaigns, which raised $100,000 in a year. The majority of our donors are all individuals or families, with 80% of donations being $100 or less. With the finish line in sight, we have the bold goal of raising the remaining $100,000. We are so excited to share that during our fall events, we have raised another $15,000 in donations. Thank you to everyone that has believed in this project and its message enough to support us financially. You have made this film possible and guaranteed the stories of Normandy would live on to be shared with others. If you like to become a donor and make a tax-deductible donation before year-end, please visit our website.
3. Volunteers and Families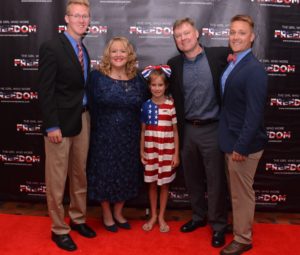 The majority of our team are highly experienced volunteers. Their time and expertise have enabled us to move closer to finishing this project while keeping costs down. These are all professionals with careers and busy lives that carve out time every week for The Girl Who Wore Freedom. The time to serve on this project often comes from the time they would be spending with family and friends. There was a great blog by Jeremy Taylor from this year that gives the reader a picture of life with our director/producer, Christian Taylor. In some small way, his stories are common to all our team members and their families. So, to our families that pitch in with tasks big and small so we can devote our extra time to the project, thank you. Thank you for supporting and encouraging us and celebrating each victory as a moment that we all share.
2. People of Normandy, especially the Boucherie Family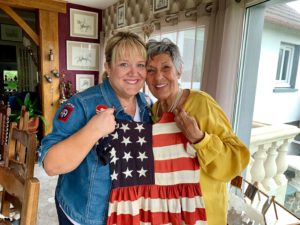 The Girl Who Wore Freedom was born in June of 2015 when Flo Boucherie approached Christian and Hunter Taylor, asking for a picture. Flo shared her family's story with Christian, introducing her father and mother, Dany, the original girl who wore freedom. Flo and her family adopted Christian and her sons during their time in France. They not only introduced the Taylors to Normandy, but to their friends and neighbors, who shared their family stories too. These stories of liberation, restoration, and friendship ignited Christian's imagination. She was inspired to capture the spirit of Normandy for others to see and experience. That chance meeting and the friendships that have since developed is the backbone of this project. Thank you for your friendship, partnership, and for making so many of our team a part of your family.
1. Our Veterans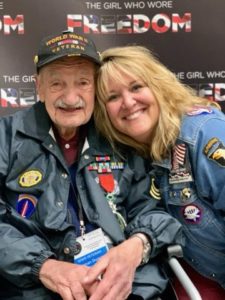 There are so many lessons we have learned while working on The Girl Who Wore Freedom, the most profound is that the best way to honor our veterans is to listen. Just like our friends in Normandy, we now want to know not only when and where you served but why you served.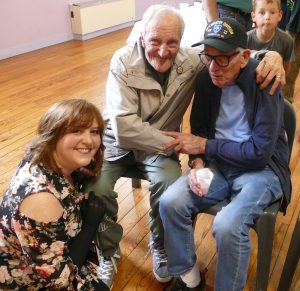 We want to know about who you served alongside and the family you left behind. We want to show our gratitude by walking together and hearing your stories. As we close 2019, thank you to all who served and to those that have shared their stories with us. We are honored to be on this journey and look forward to sharing your stories with more people and hearing more stories in the years to come.