Each November in the United States, we set aside a special day to honor our veterans' service and sacrifice on November 11th. However, in Normandy, France, remembering and honoring a veteran is a way of life and is not confined to a certain day or month of the year. This year has brought many changes, but it hasn't changed the desire of the French people to honor our veterans, nor has it diminished their efforts to put their gratitude on full display for all the world to see. In the story that follows, director Christian Taylor describes how touched she was to witness everything the Normandy French did to honor our veterans during a worldwide pandemic that closed the borders of nearly every continent in the world. It is our sincere hope that the Normans' creativity and determination to celebrate their freedom by honoring our veterans, despite difficult circumstances, will inspire you to find simple ways to honor the veterans in your area, especially this year.
An Unusual D-DAY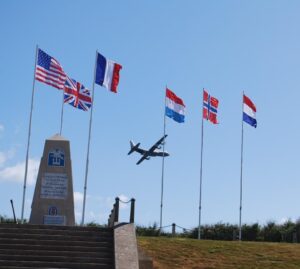 Every year since 1945, on June 6th, the small village of Ste. Marie du Mont in Normandy, France, has marked its liberation with a beautiful, reverent celebration to thank their liberators and remember those men who paid the ultimate sacrifice for their freedom on June 6, 1945. This year, June 6, 2020, was to be no different.
Until it was.
On January 24, 2020, the first COVID-19 case in France (and Europe) was identified in Bordeaux. On Feb 14, France experienced their first death due to the virus – the first death outside of Asia. March 12th, President Macron announced that all the schools and universities in France would close their doors on March 16th. On March 17th, gatherings of more than 100 were banned, home confinement began. The next day, March 18th, France closed all non-essential public places; people were issued a pass to move from place to place and only for absolutely necessary situations.
Suddenly, the questions on the minds of many Normans and all those involved in D-Day preparations for 2020 began to be uttered out loud… "Will D-Day commemorations be possible?" "What about the veterans?" "The ceremonies can't really be canceled, can they?" And then they were.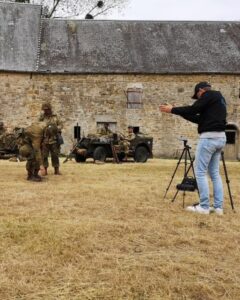 As the old saying goes, "every cloud has a silver lining," for me, one silver lining of this awful pandemic has been the privilege of having a front-row seat to watch how the dedicated French citizens of Normandy, currently involved in the yearly planning of D-Day commemorations, processed this terrible news and then almost instantaneously began inventing new ways to honor the liberators they love so much. The city of Carentan built a website and began producing videos, inviting collaborators all over the world to do the same, including The Girl Who Wore Freedom. A couple of journalists set up D-Day Live events on Facebook, Instagram, and YouTube to live-stream socially distanced and sparsely attended commemorations and reenactments, featuring four of our favorite Normandy tour guides and cast members, Thomas Neighbor and Flavie Poisson, and Florent and Jenny Plana. In true Normandy French fashion, the gratitude of a liberated people triumphed over a deadly plague, and the sacrifices of Normandy liberators were once again remembered in remarkable ways.
Their commemorations and reenactments might have been smaller and live-streamed, but the French reminded generations, both old and young, that these stories of liberation still matter. The French showed the world through these creative and small efforts during unprecedented times that freedom matters, service matters, and sacrifice still matters.
The Utah Beach commemorations mark the day the American troops landed on Utah Beach and began carving out a new road for the decisive Allied victory over evil, subsequently named Liberty Road, that wound its way from Sainte Marie du Mont to Bastogne. The celebration this year included a surprisingly personal connection. The Girl Who Wore Freedom's Normandy team, led by Co-Producer, and Dany's daughter, Flo Boucherie, surprised the United States team with a touching tribute at Utah Beach.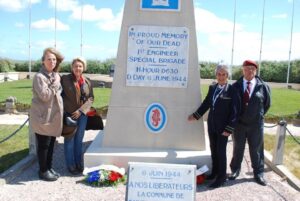 Over the last three years producing The Girl Who Wore Freedom, I have learned that changing long-held traditions or processes in France does not happen quickly. Success requires many letters, phone calls, official visits, and just like in the United States, good connections! For this reason, I was deeply humbled by what was done to honor The Girl Who Wore Freedom team at the Utah Beach Memorial Ceremony on June 6, 2020. Flo Boucherie and her parents, Dany and Jean-Marie Boucherie, along with TGWWF Co-Producer, Michelle Coupey, laid three wreaths to thank and honor those on The Girl Who Wore Freedom team who have worked hard over the past three years to highlight the stories of loss, liberation, and love that began in the skies and on the shores of Utah Beach and the surrounding areas on June 6, 1944. Along with the TGWWF film team, the group honored the warm and kind people of Branson, Missouri, who welcomed Dany and Flo in November of 2019 as we screened the rough cut of The Girl Who Wore Freedom and the Vietnam Veteran with whom they found a special connection, Robert Saffell.
In order for others to better understand how meaningful this tribute was to our team, I have asked Michelle Coupey and Flo Boucherie to explain how this all came to pass and the symbolic meaning of this gesture of respect and gratitude.
_________________________________
A Family Affair
I'm Michelle Coupey, a co-producer on the film, The Girl Who Wore Freedom. I'm also American and have lived in France for over 19 years with my Norman husband, Lilian, and our 3 children. Lilian was born and raised in a Normandy town between Bayeux and Saint Lo. His father was born in 1940 and remembers the day the American soldiers arrived to liberate his town. So even before we moved back to Normandy 12 years ago, we never missed attending the D-Day commemorations. Attending these commemorations was incredibly meaningful and important for my husband and his family, and then for our children and me.
I remember my first D-Day ceremony. It was in 2001 for the 57th Anniversary, not a big anniversary year and honestly, not a big ceremony. It was held in a small town in Calvados, attended by two American WW2 veterans, a US color guard, and a small crowd of about 20 townspeople. Yet, it was one of the most emotional ceremonies that I had ever witnessed. It was so official. Normally, I would think that such an official ceremony would be cold, without emotion. This was not at all the case. Instead, I felt a part of a tradition and immediately knew the importance this ceremony held to those who participated in it and for those who attended. They were honoring, deliberately, and reverently, those who had sacrificed for their freedom. And at that moment, I knew there were few other rights that they deemed more important than freedom.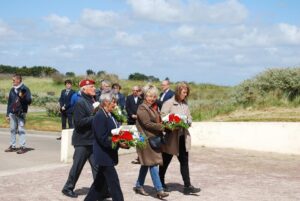 In order for you to better understand this wreath-laying ceremony, my dear friend and co-producer, Flo Boucherie, gives us an explanation.
_________________________________
Wreath Laying Ceremony
To be able to lay a wreath at a War Memorial is a great honor and was a particularly special one for Michelle, for my family, and myself as many fond memories of my childhood came flooding back. These official ceremonies conform to a very strict protocol. First, authorization to lay a wreath is given by local authorities. In our case, it was accorded by the town of Sainte Marie du Mont and complied with their protocol of precedence.
Before the June 6th ceremony, I contacted Charles de Vallavielle, Mayor of Sainte Marie du Mont, to ask his permission to lay wreaths at the War Memorial on behalf of the film production, The Girl Who Wore Freedom, the City of Branson, Missouri, where my mother, Dany, is an Honorary Citizen, and on behalf of Robert Saffell, a US Marine Corps veteran. It was an easy decision for Charles, who is a longtime friend of our family, beginning with my grandparents, Cécile and Paul Patrix, and Charles also has much respect for Christian Taylor. He naturally answered, "Yes, of course, with great pleasure."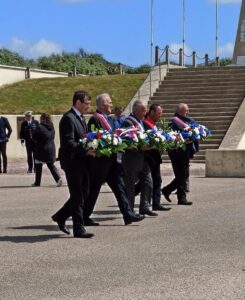 A bit of background information…what's important to remember:
When a ceremony takes place in public, whatever its nature, it must first adhere to the rules and amendments of Law 89-655 of September 13, 1989 (regarding authorizations and compliance to protocol) and then to rules set by the State or another institution
If military troops participate in a public ceremony of the State, an institution, or other, then military ceremonial protocol applies to the entire ceremony.
In all public ceremonies, the State official always has precedence: they preside over the ceremony. The arrival of authorities, VIPs, officials, and guests of honor mark the beginning of the ceremony and who are then seated facing the War Memorial
The Wreath Laying Protocol
The Master of Ceremonies will have prepared in advance the wreaths along with the wreath-handler who will be presenting it to its corresponding authority. At the moment of the wreath-laying, the MC announces the association/organization name of each wreath along with the name of the person(s) who will be laying it. Each handler presents the wreath so that the ribbon is visible to its corresponding authority. The wreaths are laid in reverse order of precedence so that the highest officials lay their wreaths last. After having laid the wreaths, authorities take three or four steps back, observe a short moment of silence in front of the monument or the tomb before returning to their seats.
_________________________________
Honoring Veterans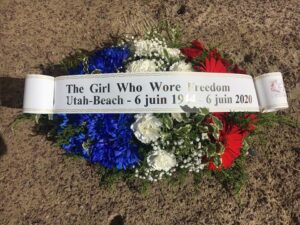 You can see from Flo's description the French take their official ceremonies very seriously. These moments are meant to honor the lives, the sacrifices, and the service that made freedom in France possible. As both Michelle and Flo shared above, these ceremonies are deeply emotional, creating memories and impacting lives for generations. To be included in the Utah Beach ceremony, normally reserved for officials and diplomats, is truly humbling. I believe it demonstrates the work we are doing is meaningful and deeply appreciated by the people of Normandy. This spurs us on in our mission to share their stories with the world.
As we head into November, what simple act of service can we each do for those veterans around us? Here are a few suggestions:
Instead of just saying, "Thank you for your service,"; find out when they served, where they served, which branch, and which unit or what conflict.
If you have a veteran family member or neighbor, call them and ask them to tell you a story of their time in the service.
Work with the staff at a local retirement home to send cards to their veterans.
Run errands for a veteran friend or family member
Contact your local VFW or American Legion post to volunteer.
Visit this website that is compiling links to unique veteran events for these Covid times.
We encourage everyone to get creative, like the French, and be a silver-lining in a veteran's cloudy day. If you develop a creative way to honor veterans, please share it in the comments below or on our social media.
Finally, remember that all veterans from every conflict have stories to share. One of the simplest ways we can honor those who have sacrificed so much is to ask a question and then listen.
---
Special thanks to Michelle Coupey and Flo Boucherie for contributing to this blog post.
_______________________________________