If you're a fan of the film you've probably seen the stylish Normandy Stories and The Girl Who Wore Freedom shirts and hats on the cast and crew during our shoots and visits to Normandy. If you've been looking for a way to show your excitement for the film, then have I got some good news for you. Last week we launched the first The Girl Who Wore Freedom shop, where we're selling merchandise: including autographed posters, hats, and shirts for the whole family.
Why are we selling merch? I'm glad you asked.
We've screened the rough cut to focus groups in the United States and France and are ready to do the final edit. We need to do some rewrites. We need to adjust the score. We'd love to hire some musicians to play our score. We need to pay for rights to archival video and photos. We have to pay our editor and other hard-working professionals who can't volunteer their time. And once we're done, we still have to get errors and omissions insurance, fees for film festivals, and other expenses to promote and distribute the film.
We to need at least $100,000 to be done. The shop is part of our three-pronged strategy for raising enough money to finish the film.
1. Social Media
The majority of the donations we received can be traced back to the hard work of the volunteers on our social media team. We spend hours each week creating fun and engaging content on Twitter, Facebook, Instagram, and YouTube to raise awareness about the film and solicit donations. On the website, our guest writers publish a new blog post every Monday and the Documentary First podcast publishes a new episode every Friday.
A film is something that you passively watch, but you can reach out and interact with us on social media. We love to hear your stories and if you're willing, pass them on to others. Contact us on your favorite platform, or via our Contact page. And of course, if you can, please make a donation.
2. Events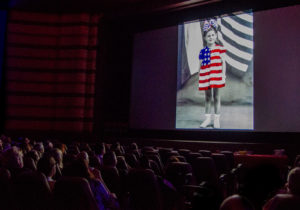 We've started sharing The Girl Who Wore Freedom at focus group events in Normandy, France and all over the US.
What is a "focus group event?" You're full of great questions!
The rough cut of the film is done, but it could still use some work. The purpose of our focus group events is to get feedback about our progress, honor our local veterans, grow awareness, and get everyone excited enough to help us complete the film with generous donations. Local teams donate their time and money (or sell tickets) to cover the cost of the venue and travel expenses for our director, Christian Taylor, to visit in-person. All donations go towards finishing the film and getting it in the hands of people around the world.
Did you know that we just launched our Events page? Attend a focus group near you or let us know if you want to coordinate an event in your city.
3. Merchandise
And finally, we're going to try raising funds by selling merchandise. Our signed posters are in stock and we're going to be adding patches and other swag soon. The shirts and hat are being pre-ordered, which means they'll ship once we reach enough sales to meet the minimum order set by our printer.
We make a few dollars on all sales*, but please note that they are not tax-deductible. Why can't you claim it on your taxes? You're 3-for-3 with great questions today!
If you donate to a 501(c)3 like PBS or the EFF and receive a gift, you must deduct the estimated value of the item you receive. In our case, you probably wouldn't have anything remaining to claim. Also, our fiscal sponsor is IFP Chicago and donations must be made through them to be considered tax-deductible.
This is a bit of an experiment at the moment. What gear and swag are you interested in? What new items should we add? Leave a comment and let us know.
Want to make an even bigger splash to support The Girl Who Wore Freedom? Make a tax-deductible donation. Thank you for your generosity and consideration!
* Are you associated with any merchandise printing companies who can donate their time or materials? Our margin isn't great and we'd love to work something out with you in exchange for recognition and thanks on our Supporters page and social media.