Never Forget – it's a phrase most recently associated with September 11, 2001, an indelible watershed moment in history. We say, "never forget" so that we honor the memory of those lost and the loss that so many family members suffered on that day.
But "never forget" was a phrase used prior to 2001 in relation to the atrocities of WW2. Never forget what happened, both to honor sacrifices made, but to also be on guard so that history doesn't repeat itself.
However, last weekend, I heard never forget from an entirely different perspective.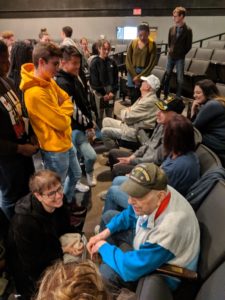 As friends for 35 years, Christian and I made plans to be roommates at our high school reunion this fall. I was delighted to hear that she would also be presenting her film The Girl Who Wore Freedom at our alma mater. I have been following Christian's adventures from her first visit to Normandy,  through her work to gather stories from D-Day veterans. I followed her return to Normandy this past June on the 75th anniversary of D-Day, for her first focus groups. I couldn't wait to see the result of all her hard work.
Before the event, Christian got word that two of the guests of honor scheduled to attend wouldn't be able to make it due to a transportation issue. Since I had a car, she asked if I'd be willing to drive her to the veterans' home after our event so that she could visit with them.  I was welcome to drop her off or join her on the visit.
Christian shared last week the incredible ethos present that evening between the French families, the veterans, and high school students after watching the film. It was a fantastic experience hearing and seeing the gratitude in Normandy for American and Allied troops.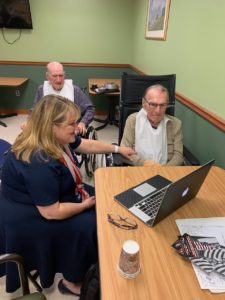 It was encouraging to see their gratitude passed from generation to generation.  Seeing American teens embracing that same gratitude surrounding the veterans who were there and simply listening to their stories completed the night perfectly.
After the event, I was eager to join Christian at the veterans' home to meet two more D-Day veterans to thank them and hopefully hear their own stories.
When we arrived, it was dinnertime, and we were escorted to the first veteran who was sitting in a small dining area with a few others. Christian began to acknowledge his involvement in D-Day and his other assignments and honors during the war.  As she expressed gratitude on behalf of the French people and herself, he became emotional, yet his eyes lit up as she talked of familiar names and locations. It was as if these memories had been laid to rest long ago and bubbled to the surface.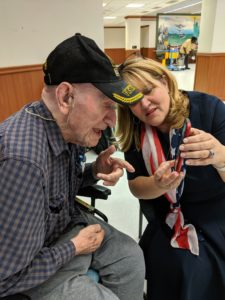 While Christian was talking, another veteran sitting at the next table began to shout out – "My brother was in Normandy. His name was Frank – do you know Frank?…" The nurses tried to quiet him, but he persisted. "My brother was Frank. Frank Bananzio.  Do you know him…?"
Suddenly he had Christian's attention. "Did you say Bananzio? Are you from New Jersey? Do you have a brother named Daniel Bananzio?" she asked.
"Yeah, Jersey. Danny Bananzio – that's my brother." [said with a strong Jersey accent]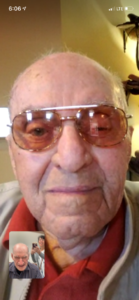 What unfolded from there was like out of a movie. Within minutes, we were sitting with Tom, video chatting with his brother Danny Bananzio, who lives in Florida. Danny had traveled to Normandy this past June with the TGWWF team. Neither brother knew where the other was, and we're not clear on how long it has been since they've seen each other. Thanks to the TGWWF project and technology, they reconnected. They laughed; they cried; they compared bald heads and shared stories about their grandchildren. They recounted their brothers who also fought in the war. Tom and Danny are 2 of 12 children, and 5 of them served in WW2.
How could this evening be any more powerful, I thought.  Not only has The Girl Who Wore Freedom brought together high school students, French people, and veterans tonight, the project has reunited two brothers.
However, we knew we needed to visit with the second D-Day veteran before he went to bed. The nurse-led us to his room and I figured this would be a quick visit, thank you and let him get to bed if he wasn't there already. When we arrived, he seemed a bit skeptical and unsure of why we were there. Still, he politely listened as Christian acknowledged his service and the many honors he received and began to thank him for his sacrifice.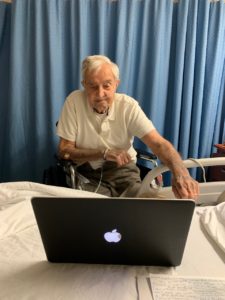 Then she offered to play the trailer of the film for him. As he watched, the clip of Omaha beach came on the screen, and we watched him physically respond with a full-body shiver. He simply said, "that water was cold." Suddenly I could not take my gaze off his face. Seventy-five years later, and he remembers how cold the water was.  Then, as he referenced his memories of Normandy, two of his words jumped out at me. He said, "You NEVER FORGET what happened over there."
So now I will NEVER FORGET those who fought for us not just to honor them but because they will NEVER FORGET.
Thank you to Christian and The Girl Who Wore Freedom team for bringing people together to learn, remember, honor, and never forget.