Our next story of a soldier in love comes to us from Mike Strasberg. Mike went to high school with our own Christian Taylor at The Stony Brook School. After learning about The Girl Who Wore Freedom, Mike was inspired to learn more about his family's involvement in WW2.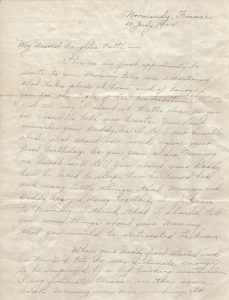 His search uncovered rare hand-written letters from his grandfather, Joseph "Allen" Hopper, which captures his experience in France and his love for his young daughter. His daughter is Mike's mother, Patti, who was not even a year old when her father left for France. So, few of these hand-written documents remain that we are thrilled and honored to share a portion of this family's story with you. From Normandy, July 10, 1944 Allen Hopper writes,
"This is my first opportunity to write to you. Mommy tells me everything that takes place at home and of course you are the topic of conversation. That's just the way I want it Patti dear, as you are closest to both our hearts. You don't remember Daddy, as I left our humble abode just about one week before your first birthday."
Can't you can feel the sadness in these words from a soldier and father who is far away from home? He seems well aware of all tiny moments and memories that he is missing. Allen tries to connect with his littlest love by sharing with his daughter his love story with his wife, Marian.
"When your Daddy first started work in New York City, he was fortunate enough to be employed by a big banking institution. I say fortunate because in this same bank Mommy was also working. It took your Daddy a long time to realize that he was lucky enough to gain acquaintance and be Mommy's sweetheart. Your Mommy was (and still is) a very sweet, lovely, adorable and popular girl and I couldn't believe that I was lucky enough to gain her love and affection.

When I was ordered into the Army and had to leave my happy surroundings, I gathered enough nerve to ask Mommy to be my wife. … Our wedding day was too beautiful to describe and its memory will always be with me."
Allen wrote home again in August of 1944 telling young Patti about France and the sweet children, which must have reminded him of her. Allen, like so many soldiers, was drawn to the children of France which were a bright spot in a long and sometimes lonely war.
"I will try to give you a quick picture of what I've seen. The little French boys and girls are very friendly and appear to be quite happy children. The little boys wear skirts just like the girls and it's hard to tell them apart. They wear wooden shoes and it sounds like Bordens milk wagon when they walk down the street."
Allen continues in this letter sharing his unique faith experiences as he traveled through France. You can see that these moments have brought him comfort and that he hopes this will bring his family some comfort too.
"At most every cross road there's a crucifix of our Lord Jesus Christ, and people that are traveling by can kneel down and say a prayer. Daddy has only been able to stop at a few, but when I do, I pray for my two sweethearts at home."
We know from other documents that Allen served with the 92nd Chemical Mortar Battalion in Normandy. On March 14, 1944, Allen Hopper received a Battlefield Commission to Warrant Officer, Junior Grade. His battalion then moved east across France and into Germany supporting other Allied forces. This battalion, along with several others, later received a commendation for its support in various strategic battles from Northern France to Central Europe.
In January 1945, Allen writes to his daughter once again. His words are so familiar and could have been written by any soldier serving 75 years ago or those soldiers still serving today.
"Although we three, you, Mommy and I, are many miles apart, our letters keep us together in our everyday lives. Mommy writes to me constantly and tells me all about you. … So you see, Daddy is very near and yet so far. …What I do want you to know is that I'm awful anxious to come home and see you and Mommy- which I love so very much!! … I'm trying in my small way to make this world a much happier one for people such as you and Mommy."
After seven more months of service, Joseph "Allen" Hopper would finally return home to New York and to his "sweethearts," Marian and Patti.
We thank you, Allen Hopper, and all the soldiers both then and now that choose to leave their loved ones at home and serve others. Thank you for your efforts big and small to make this world a "much happier one" for us all. We also thank Mike Strasberg for sharing these letters and giving us a glimpse of a soldier's love.
Finally, to you our readers if you have access to written letters like these, which capture the story of France and its people during World War 2, please contact us. It would be our honor to capture these stories and share them with the world.
Happy Valentine's Day.
This post was authored by: