During our focus group screenings of The Girl Who Wore Freedom, people are always moved by our amazing score which was composed by the equally amazing Jeff Kurtenacker. Recently, Jeff sat down to answer questions with our podcast team at Documentary First.
Jeff also took the time to share how he joined The Girl Who Wore Freedom at our event in February.
We are so thankful for all that Jeff has done for The Girl Who Wore Freedom and we hope you enjoy his post from November 2018.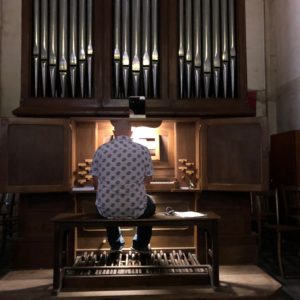 I heard Christian Taylor's voice long before I ever met her. I was (and still am) an avid listener of the Phil Vischer Podcast which she co-hosts with Vischer and Skye Jethani.
After a few years of faithful listening to hundreds of episodes, I started to hear Christian mention this film idea she was working on – and I was intrigued.
Intrigued. But I didn't think much about getting involved. After all, I live in Southern California and Christian and the crew is located in the Chicago area. But as a music composer who has written a lot for various media, I was very interested in the idea of scoring something with such a rich history like the film Christian was proposing.
Then came a podcast where Christian was talking about her time in Normandy, France, and the film process so far, and she mentioned she needed help. That afternoon I sent Christian a message introducing myself and asking if they could use a composer. I reached out, but I was sure that would be the end of it.
To my utter amazement, Christian messaged me back. Not only did she write me back, but they were looking for a composer. We set up a time to talk on the phone the following week. But a few days later she mentioned she was in Las Vegas with some of the crew from the film for an expo, and she wondered how close I was to Las Vegas.
Living in Orange County I am 270 miles from Las Vegas. Not exactly close.
My first reaction was to just do the phone call in a few days. But the more I thought about it, the more it made sense: if driving 540 miles round trip to meet someone for dinner is what it takes to become the composer on this film – is that worth it? The answer, in my mind, was a resounding yes. So I told Christian I would make the trek to meet up with her and the crew.
I drove four hours to Vegas and met Christian, Terry Jun (director/writer/executive producer), Corey Lillard (director of photography), and Rick Arbizzani (unit production manager) for dinner. Regardless of the time, it took for me to get there, the ability to meet them face-to-face was crucial. I felt instantly at ease with all four of them. They had heard my music and liked it. They told me in-depth details about the film, and I was enthralled. The film ran so much deeper than I thought, and the idea of working on it was incredibly exciting. Everything seemed like a good fit – and in a short time, I was the newest member of the crew.
We shared a good meal, talked, laughed a lot, bonded, and then shortly after 10 P.M. we parted ways. They went down the block to their hotel, and I began the four-hour journey home.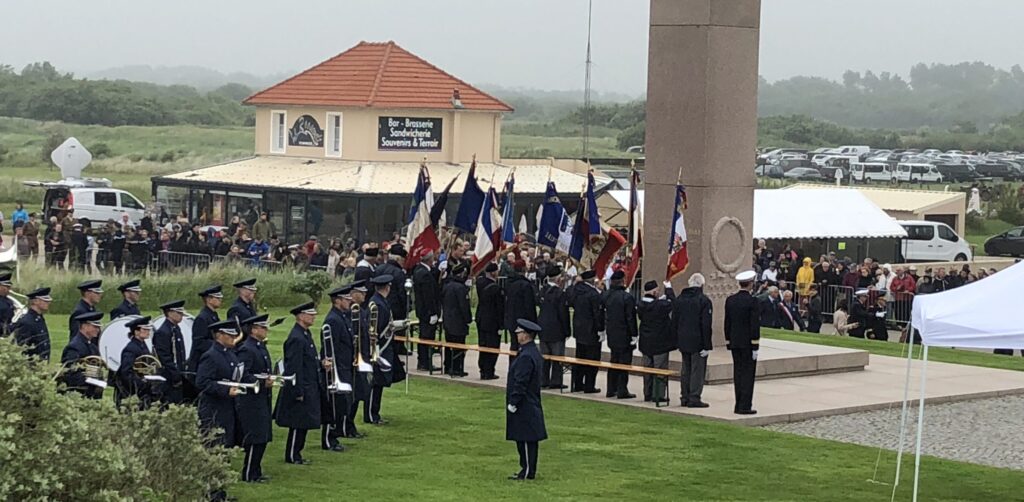 In the following months, I talked with Christian and it became clear that to really feel the weight and depth of this film I needed to visit Normandy. I scheduled a trip to France while Christian and the crew would be filming, and I flew out and met up with them in early June. The trip and the experience was transformative.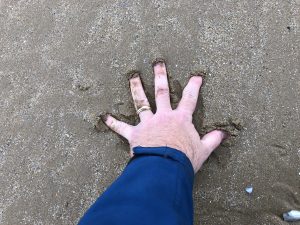 I was able to walk the streets where Allied soldiers marched to free Normandy towns. I held the sand of Omaha Beach between my fingers. I attended a moving ceremony on D-Day at Utah Beach. I heard amazing testimonies of heroism from soldiers who were there on June 6, 1944. I saw the lengths to which the Normandy people go to honor the Allied troops who liberated them. It was difficult to take in, like trying to swallow the sun. So much history and emotion and stories that need to be told. I was even allowed to record some preliminary ideas on an organ inside a beautiful 11th-century church at Sainte-Marie-du-Mont.
Currently, I am composing the score to The Girl Who Wore Freedom, and I am drawing on all my experiences in France and all the emotional impacts while I was there. It is no small task to compose music that underscores remarkable stories of heroism and bravery. I feel the weight of the sacrifices that were made to liberate the French, and I want to make sure the music I'm writing honors the stories and acts of heroism that changed the world 74 years ago.
The music I'm composing for the film brings in strong but simple melodies that evoke hope and courage. Hopeful strings balanced out with strong brass lines evoking heroism and bravery. Echoes of military cadences and choir voices sing out over visions of the Normandy countryside and help contrast a human element to such an inhumane time. The music has to underscore freedom and hope rising from ashes of terror and oppression. It took a few rounds of feedback to get inside Christian's vision for this film, but we have hit a good stride and there are some really exciting pieces of music being created.
Adding to the adventure of this score, I am writing the music before the film is edited. Normally a film is edited first, and then the music is written to fit the edit. But Christian likes the idea of the music first to help drive the emotional tone and pacing of the edit. And while that is an immense privilege as a composer, it is also a bit daunting, to say the least. As work on the score moves along, I will be joined by a few other talented composers to help round out the work and production of the music.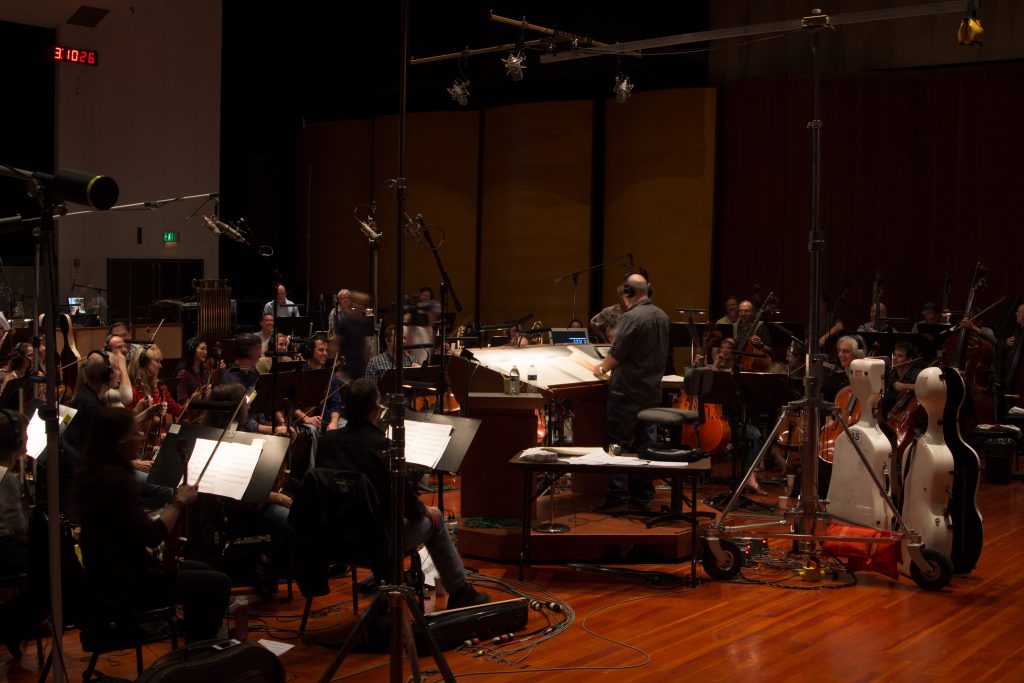 The importance of this film cannot be overstated. These stories need to be told, and it is a great honor to compose music that helps convey the emotional context of these memories. I am writing music each day to cultivate enough pieces and variations to cover what I'm reading in the script, and then I get to move onto my favorite part of the process – the production. Here we get to bring in live musicians to augment and enhance the score and help bring it to life.
I am honored to be a part of this film. And I am grateful to have driven eight hours, round-trip, for a dinner invitation. It has been worth it.
This post was authored by: