This is part 2 of 2, told from the perspective of Christian Taylor, director of The Girl Who Wore Freedom. If you haven't heard Jean-Marie's story, go back and read part 1 first.

---
In September of 2017, I traveled to Normandy, France on a pre-production scouting trip for the upcoming documentary, The Girl Who Wore Freedom. My mission was to research people, places and things connected with Operation Overload and the D-Day landings. I was intent on uncovering compelling stories of the Normandy liberation from the civilians who had lived through German occupation and the Allied liberation in hopes of sharing these stories with the world.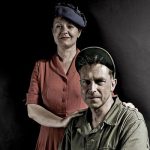 Normandy did not disappoint.
Flo Boucherie was my guide that Fall and held the keys to everything I needed in her hands. As the daughter of Dany Patrix Boucherie, The Girl Who Wore Freedom, Flo had been brought up on the doorstep of history and knew just about everyone and everything, it seemed, in all of Normandy. When we began the initial research for this project, I asked her to make a list of all the most engaging people, impactful places and memorable stories that she could. One man topped her list – Jean-Marie Caillard as well as his wife, Sylvie.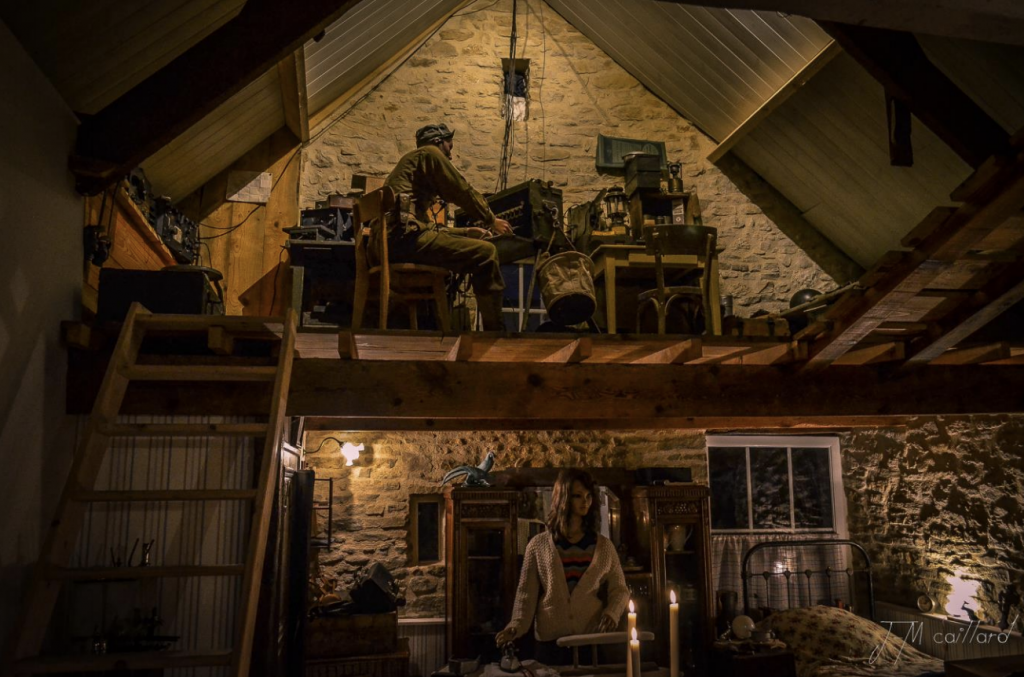 When I met Jean-Marie and Sylvie they took my breath away. Physically, they were stunning and historically perfect – both donning authentic clothes of the 1940's era. We met in a very special place they had created. Part bar, part restaurant and part museum, L'Atelier was a wonder to behold. It was a feast for the eyes of a hungry history lover come to Normandy! As soon as my eyes adjusted to the sumptuous fare in front of me, I gazed up to a spot in the rafters and was drawn in by a secret loft I'd spied. I asked these newly discovered chefs of the history feast before me for a better taste and was not denied. Quickly grabbing a wooden latter, Jean-Marie made passage to the point of the roof I longed to see, possible and I eagerly (but nervously) began the ascent. When I got to the top what I saw was spellbinding – a perfectly re-created radio signalman's nest from 1944 and what I learned next would take this research mission to a whole new level.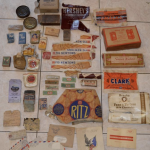 Along with being a passionate collector of historical artifacts and a lover of history in general, Jean-Maire is also a good storyteller. I asked Jean-Marie to describe what I was looking at. He pointed out a few eerily familiar things: a used Ritz cracker box, a crushed Lucky Strike cigarette pack, a torn Hershey's wrapper, a Brach's candy box, a spent Fig Newton package and several Wrigley's chewing gum wrappers – clearly – a perfectly preserved care package from the home front! While these things had my mouth agape with wonder, what Jean-Marie showed me next stopped my heart… hand written letters… letters from a mother to her soldier son at war.
Dearest Bob,

Well, here it is about bed time, but as I didn't write yesterday, I just had to tonight. I was so busy yesterday that daddy said he would write and I could write today. I canned 16 qts of nectarines yesterday and on Sunday too. I hope they keep.

Today was the starting of my vacation and boy I sure worked all day. I painted the inside of my cupboard and washed all the dishes in it and then I painted the kitchen table, chairs and stool, when I got done I even looked like I had painted myself. I almost had to take a bath in gasoline to get it all off. Ha Ha.

I had another letter from Meredith Saturday – said she still hadn't heard from you either. It was three weeks last Saturday since I got your last letter. I wonder if you get mine I have been writing all the time. Tomorrow I am going to can some beets and I think I will go into town in the afternoon. I am going to mail you another pkg. I wonder if you got your pkg. with the peanut butter and how it went thru. I have sent peanut butter twice.

Say Bob I have never received the $40 you said would come. Have they started to take it out of your check yet, and if so what month? Let me know and I will sort of keep track to see if you get it. I think you said it would start with your June check, is that right? Of course, it takes a long time for all the red tape they go thru.

It is terrible warm here and oh so dry everything is burning up. I hear on the radio where the weather has been so bad over there. We saw Barbara Jean Saturday night, she was asking about you and she hadn't heard from you or Junior either one. I guess Ethel hasn't been feeling as good.

Well Bob it's my bed time so will close for now. Be a good boy and take darn good care of yourself so you will come back your sweet self to your mom. Hope to be getting a letter soon, but will keep writing.

With Love,

Your Mom
No sooner had I read "Dearest Bob" than tears were welling in my eyes and by the time I reached "Be a good boy and take darn good care of yourself so you will come back your sweet self to your mom" I was completely undone. These letters sounded just like the letters I'd sent my own son when he was in Afghanistan in 2014, aside from the canning and furniture painting, of course.
It was in that moment that history hit home and I would never be the same. As I stood there in that attic with relics of history swirling all around me I was pulled into a time vortex where the past was present and present was past. I held history in my hands, felt it in my heart and it began to dance in front of me. This is what Normandy does to you. It reaches down inside your soul and stirs something you didn't even know was there. It reaches deep down and pulls up profound gratitude from the tips of your toes and the soles of your feet until pure patriotism begins to ooze from your pores.
For generations, there have been many grateful, passionate people of Normandy just like Jean-Marie and Sylvie Caillard, who are "very attached to memory and the passing down of history." People whose "memories were very marked by the war and liberation" and were "who were raised in a spirit of remembrance and respect for the history of their region." (Jean-Marie's words in part I of this blog post.) These people have remembered what others have forgotten and dedicate their whole lives to making sure we "never forget." They lovingly create hands on history experiences for any and all pilgrims who come to their shores seeking to peer into a window of the past and in doing so they make it impossible for us to look away and as equally impossible for us to forget.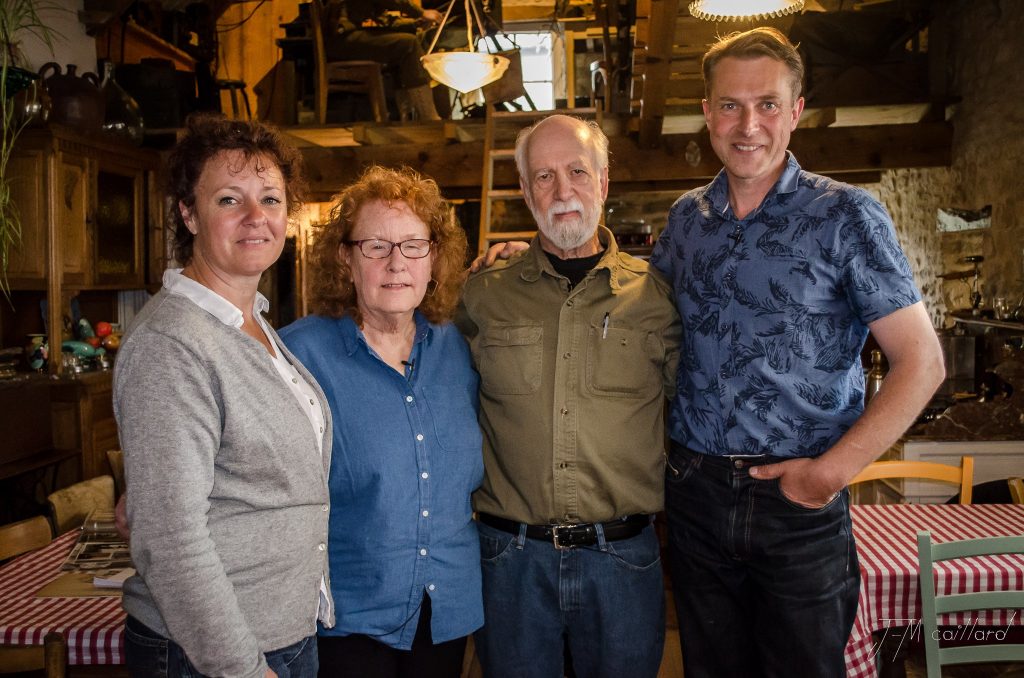 As I stood in that re-created radio signalman's nest, Jean-Marie pointed to the letters and sadly explained that he'd tried in vain to reach the GI or anyone in the GI's family; a wife, a child, an uncle or aunt, anyone. He was very sad because he'd hoped his precious discovery would lead to what is the Holy Grail for all in Normandy; a living, breathing veteran who can be thanked and adored. A veteran who could give an accurate accounting of the history surrounding a particular object that you've discovered.
As I listened to Jean-Marie's story and heard the disappointment in his voice I took a closer look at one of the envelopes he held in his hand. "Wait… Is that right?" I thought, "Does that say what I think it does? No! It can't be! Yes, it is!" There it was as clear as crystal, Waukegan, IL – only 52.4 miles away from my home in Wheaton, IL! In my emotional state, I vowed in that moment to find the soldier's family for Jean-Marie when I returned to the states.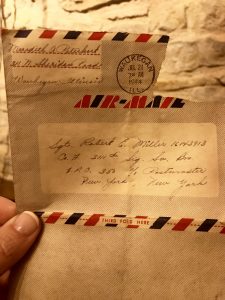 A vow I would keep.
Four weeks later, with the help of Randal Underhill and the 101st Airborne Division Association, I found Sgt. Robert Miller's wife, Inez, as well as his daughter Janine Miller Perry and I help to reunite Janine with her grandparents' letters and others from family friends and relatives. In June of 2018, as part of The Girl Who Wore Freedom project, Janine and her husband traveled to Normandy to meet Jean-Marie and Sylvie Caillard. Janine brought letters her father had written during his time in the war and pictures he'd taken of Carentan, the town where he'd spent many hours squirreled away in an attic enjoying care packages sent from home. In the first few moments of their meeting I felt the strong pull of the historical time vortex yet again as I watched French and Americans alike make new connections, born out of a shared history, that will last far into the future – making this particular story impossible to forget.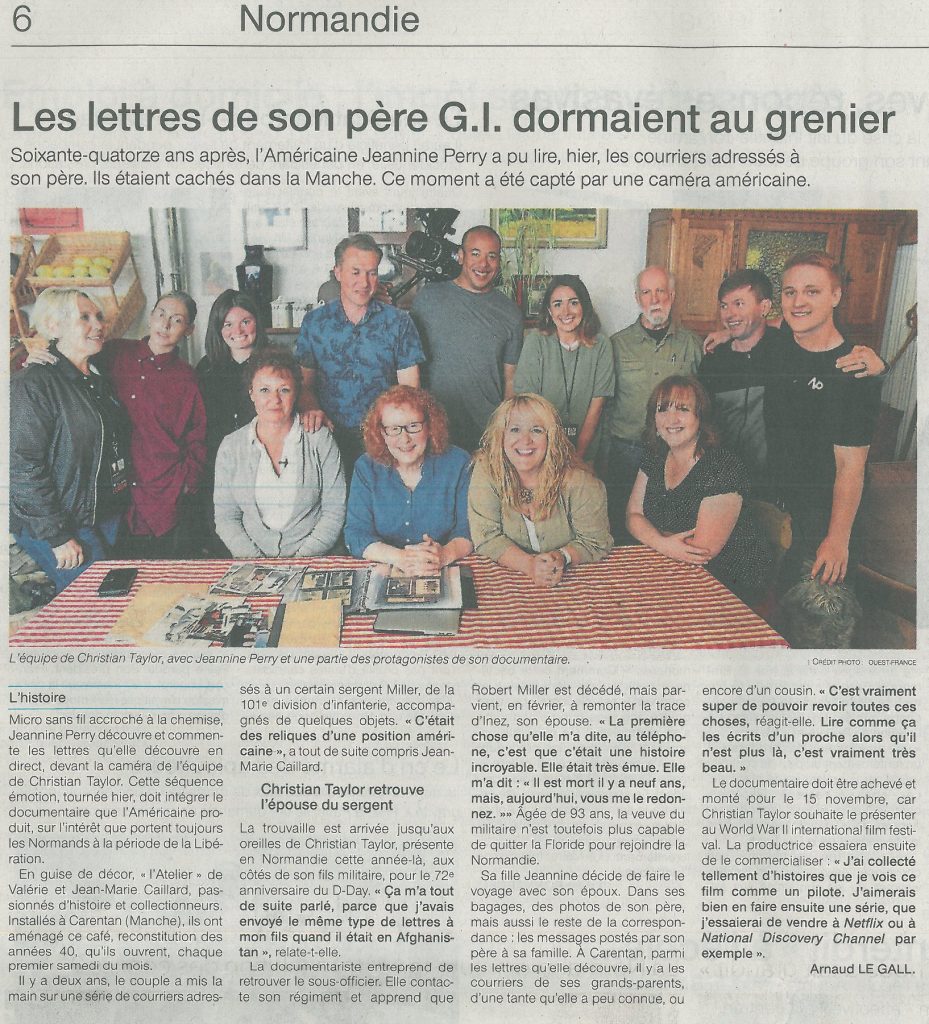 ---
If you liked this post, check out our short video, A Radio Signalman's Secret.