Tremendous jubilation in the U.S. and Europe occurred on May 8, 1945; V-E Day (Victory in Europe Day). Certainly, there was good reason to rejoice, but the war still raged on in the Pacific. WWII was not over. How many more lives would be lost? Would this war ever end? If yes, when?
Saturday marked the 75th anniversary of the end of WWII, V-J Day, or Victory over Japan Day. In 1945 on August 15, Japan announced its surrender, causing exuberant celebrations to erupt all over the United States.
There were three and a half long and painful months between May and mid-August 1945. What was that time like for those still in Europe and their families back in the States? What were their thoughts? What weighed on their hearts?
My parents' correspondence gives a revealing glimpse into not only their frames of mind but most likely also those of countless others. Anxiety and anticipation were a persistent and prevailing theme along with unease and hope. Would my father, Captain Harry A. Crosswell, be ordered from southern France to the Pacific? Or would he finally, after a two-year separation, be going home to my mother, Mary Jo B. Crosswell, and their infant son? For them and everyone at this time, it was such an emotional tug of war!
May 1945- V-E Day
"We're one big step nearer our reunion…"
Harry A. Crosswell, May 8, 1945, 11:45 a.m., Marseille, France
"Wish I were heading for the States shortly. It won't be as long as it has been, I am sure. Enjoyed your grits this a.m. with fresh eggs. … After reading some of the 'Stripes,' it was soon time for Churchill to speak. It was really thrilling to hear those few words that meant so much to us all."
Harry A. Crosswell, May 8, 1945, 12:45 p.m., Marseille, France
"Gene fully expects to go to the Pacific, and possibly several of us will, but there isn't much we can do but still wait and see."
Harry A. Crosswell, May 11, 1945, 12:15 p.m., Marseille, France
July 1945- Orders for the Pacific
"I am still waiting for my orders. … Maybe I can occasionally get a bottle (of Coca-Cola) out there (in the Pacific). At least I will enjoy thinking it possible. … Those darn orders still haven't hit here, but I don't want to 'bother' anybody about them. … I was called to the phone at supper. It was Murphy to tell me that my orders had come thru in the evening mail. … Hope we can get on shipboard the day I get there (Staging Area), but we'll no doubt rot in the dust for a month beforehand.
Harry A. Crosswell, July 16, 1945, 5:45 p.m., Marseille, France
"The rumors are flying thick and fast about Japanese peace feelers. … I just can't afford to let myself believe much of this. … I've just got it figured out as the best and fastest way home (is) to go direct (to the Pacific) and get it over and done with.
Harry A. Crosswell, July 18, 1945, 7:10 p.m., Marseille, France
"I got here…amid the swirling red dust and high wind…it was hot as blazes."
Harry A. Crosswell, July 22, 1945, 9:35 p.m., Staging Area, Marseille, France
"Father fixed the radio, so I have been able to hear a bit about Churchill's defeat and about the peace terms to the Japanese. It is really a help to have it to keep in touch with the world."
Mary Jo B. Crosswell, July 27, 1945, 5 p.m., Sunapee, New Hampshire
August 1945- Peace or No Peace
"The news of the atom bomb is most startling. I'm hoping and praying that it will accomplish the peace we are after."
Mary Jo B. Crosswell, August 6, 1945, 8:30 p.m., Chicago, Illinois
"Hate to realize that two years ago tonight, I left you for the last time. … We are in the home stretch, so let's not lose heart."
Harry A. Crosswell, August 9, 1945, 8:55 a.m., Staging Area, Marseille, France
"I guess all the peace rumors have you excited again. I have been so myself but can't for the life of me figure out what would become of us if we're still here when peace is official. … As of this a.m., we're still heading for the Pacific. The complexion of things changes so rapidly. I still don't know what to expect. I had myself all steeled to what lay ahead, and now we're going back in the state of not knowing what to expect from day to day. … I do hope that you'll realize that maybe our reunion date is nearer at hand than we dared hoped. Tell all hello, kiss yourself, and Harry for me."
Harry A. Crosswell, August 11, 1945, 10:00 p.m., Staging Area, Marseille, France
"This peace or no peace ordeal is nerve-wracking."
Harry A. Crosswell, August 13, 1945, 9:00 a.m., Staging Area, Marseille, France
August 15, 1945- The Surrender
"What a day to remember. I wonder how you spent it. …I had better start back with my departure yesterday (from Chicago). Harry and I got on the train with no complications, and really we had a very interesting trip. … We hadn't been on the way long when an M.P. stopped at our door. I asked if he had heard any news. He hadn't. … Later a Sgt. And a Navy officer stopped at the door. … I asked them for any news. The Sgt. said a porter told him the war was over, but he didn't know if the porter knew what he was talking about. I said something about not wanting to be disappointed again, and one of them said, 'Isn't it the truth, lady.' … By eight-thirty, our berth was made up, and we were in bed. Just as I turned out the light, we passed through a town, and I heard horns blowing and newsboys yelling extra, and I saw people carrying flares. As the papers went by, I tried to make out the headlines but couldn't. All night I was wondering if it was over or if it wasn't. This morning we dressed and went into the diner. I passed an M.P. on the way and asked him if he would tell me if the war was over. He answered, 'Yes, ma'am, it's official.' I just couldn't believe it, and I still can't believe it. … I hope you will soon be home, and surely you will."
Mary Jo B. Crosswell, August 15, 1945, V-J Day, 11:00 p.m., Atlanta, Georgia
"Just in case you don't notice my "change of address," I'd better clarify…I'll soon be seeing you. … As much as I've looked forward to this, dreamed of it, and prayed for it, I found my emotions almost uncontrollable, have had great difficulty in sleeping, and in general, just can't take it in. … I'm just too happy for words. I thank God for so blessing us. Hold on a little longer."
Harry A. Crosswell, August 19, 1945, 8:30 a. m., Staging Area, Marseille, France
(His V-Mail return address was their home in Atlanta, Georgia!!!)
"The packing and the paperwork…is a pain but is actually the most pleasant packing I've done in over two years. I know what lies at the end of the trail. … Thank God for the chance to tell you I love you on our fourth anniversary and in person too!"
Harry A. Crosswell, August 19, 1945, 7:30 p.m., Staging Area, Marseille, France
"Expect to be home soon. Don't write further. Will contact you on arrival."
From Harry to Mary Jo, August 24, 1945, Western Union Telegram sent from ?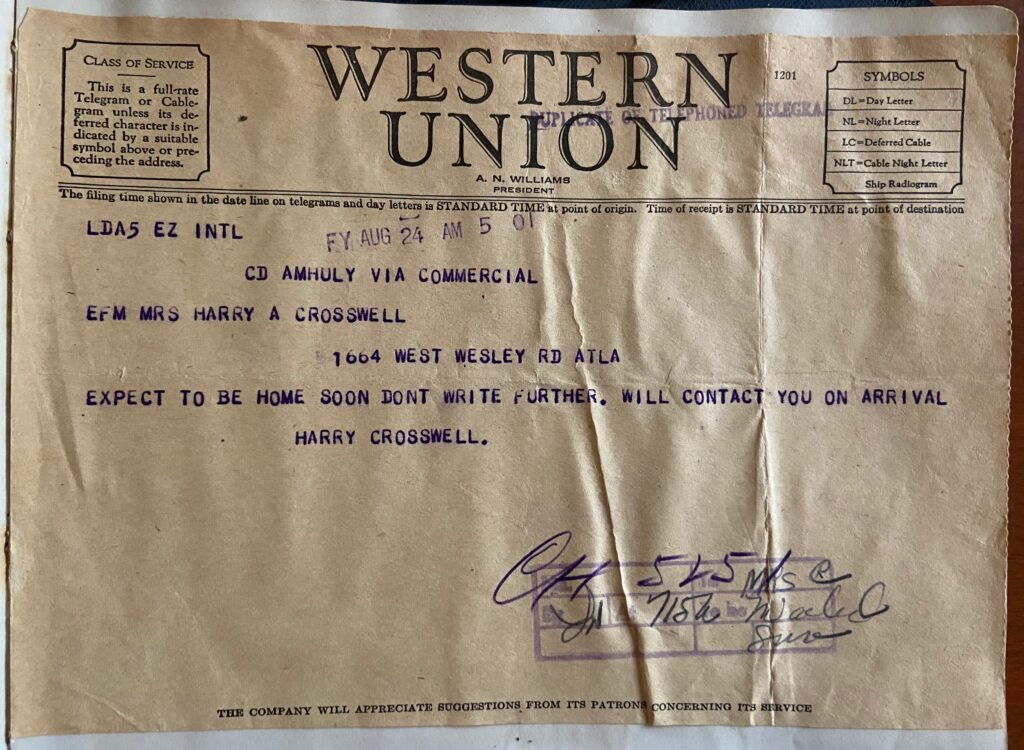 After the War
Throughout their two-year separation, these letters to each other, especially from May to August 1945, were full of prayers and bets (my optimist grandfather won, my realist mother lost), anticipation and anxiety, hope, and fear. They faced so many unknowns. Have these months of our own, "together while apart", due to COVID-19 given me the slightest inkling of the trial of my parents' separation and the joy of their reunion? Only the very slightest. I remain in awe.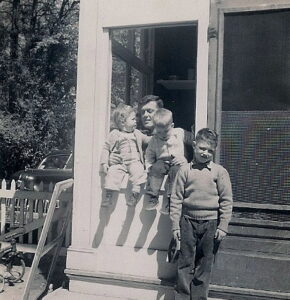 After the much-anticipated reunion in September 1945, my mother and father hit the ground running to begin the rest of their lives. In his last few months overseas, my father expressed in his letters ambivalence about continuing in dentistry upon returning home. Had dealing with severe dental battle injuries disillusioned him? Was he just restless from having been away for over two years from his everyday professional life? Either way, the war left its scar. He and my mother decided he would leave dentistry.
Within two years of their reunion, they moved briefly to New Hampshire and became parents to my brother Bill. Then they settled in Pottsville, PA, in what was to be our family homestead for the next 66 years. In 1948 my brother Rob was born. In 1950 I was born. Gradually my father reentered his chosen profession when a local dentist offered his office to work on our teeth. For the rest of his life as a very actively practicing dentist, he was known as "Doc Crosswell."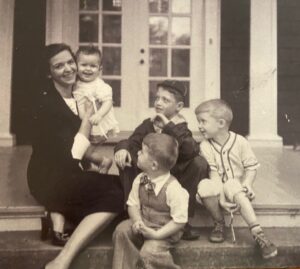 My mother swore she would never move again once settling into her beloved home in Pottsville in 1947. She never did move and never had to throw anything out to downsize. We are grateful for that. Her attic remained an untouched treasure trove of so much precious, fascinating family history just waiting to be discovered, …especially that box of amazing WWII correspondence.
May we show utmost respect and honor to all who have served and those who continue to serve. We remember not only those on the frontlines and back on the home front who celebrated joyous reunions – but also those who never returned. How do we do so? By listening to and sharing their stories of service and sacrifice. Never Forget!