Normandy is a place of freedom and love. The love that the early soldiers had for the French people when they landed on their beaches, and the love that the French people have to this day for our military and veterans. Not only was I an eyewitness to this kind of love, but I found my own. Just like all good stories, this one begins, once upon a time, there was a girl. This girl believed with all her heart that God had given her a prophetic promise for a husband. Years went by. I waited. I prayed. I kept my eyes open for that promise to be fulfilled in God's timing and in His unique way. Nothing happened.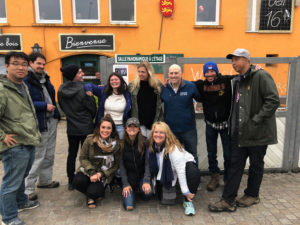 Then my prayer was answered in a way I never expected or imagined. When longtime friend and director of The Girl Who Wore Freedom, Christian Taylor, asked me to go to Normandy with her crew as a Hair/Makeup and Wardrobe mistress, I was excited. A whole month of working on a film set in one of my favorite eras and subjects, running around quaint, historic little French towns, a dream come true! Love and friendship seemed to fill every street and town where we worked. I wondered if the answer to all my prayers was walking these same streets. A crazy idea, I know. There certainly were lots of good-looking soldiers from the 82nd and 101st airborne divisions running around Normandy but I soon gave up hope of meeting the right one in the right place.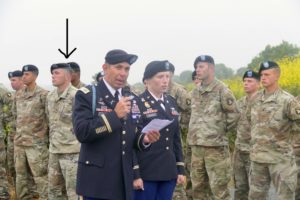 On the morning of June 6th, 2018, we headed out early to film the D-Day commemoration ceremony on Utah Beach. Before that, we stopped at the Dick Winters memorial to film the ceremony there. There was a small group of 101st soldiers standing at attention at that ceremony, lead by a particularly handsome sergeant in front. I couldn't help but steal a few glances but then it was time to move on. We had a full day of filming that day and by the end, our team was cold, tired, and hungry. We decided to all go out to dinner in Carentan, a popular hangout for soldiers of the 101st division because of its history and connection to the 101st. 
During dinner, I could see a group of soldiers standing outside the restaurant window at the bar next door and noticed one soldier in particular that kept looking at me. Could it be the same handsome soldier from earlier that morning? Of course, it was. When dinner was over, I went outside in hopes that he might come to talk to me. Just like that, the mystery soldier approached and introduced himself, Charlie Reynolds. He asked what I was doing in Normandy and said then I was the most beautiful girl he'd ever seen. Things were off to a good start. Then he mentioned that seeing me that morning was so distracting it was difficult for him to stand at attention. A very good start indeed!
We exchanged numbers. 
The rest is history.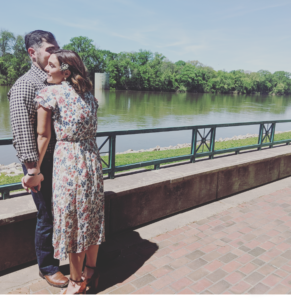 Almost a year after we met, I donned a 1940's style dress, carried a WW2 soldier's bible, and married my handsome soldier. We stood beside the river in Clarksville, Tennessee, right next door to Fort Campbell which is the home of the 101st Airborne Division (Air Assault), and my new home too. 
I found a soldier who has given 18 years of his life and 4 foreign combat tours for his country. A soldier who has endured his own share of hardships and loss and has made many sacrifices. A soldier who has been to war and fought for me, though he didn't know me. 
I've never been prouder than to be an Army wife. I love and respect the young boys who signed up to jump into German-occupied French towns in the middle of the night on June 6th, 1944 and fight until the French, and the rest of Europe could rest in peace. I love and respect all the men and women who fight for freedom today, and make numerous sacrifices so I can be free and feel safe; especially my husband.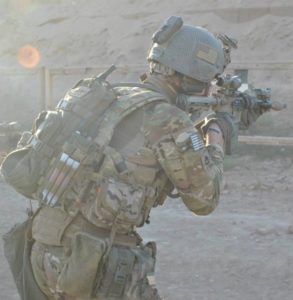 Sometimes we just need someone to fight for. Someone to love us unconditionally, despite our past hurt or scars. Someone to stand on the sidelines and cheer us on. Someone to come home to. Sometimes we need someone to anchor us, pray for us, and watch our flank, so we can keep running forward, keep fighting, keep serving, and keep sacrificing. That is the way the people of Normandy love our soldiers, past and present, and the way I will love my soldier too.
Out of all the soldiers that were there in Normandy, and all the places I could be, I met my now-husband, in a small French town, on June 6th, D-day. Not such a crazy idea after all. Now as an Army wife I can imagine the wives and mothers waiting for word on those they love. That's right, I'm going to be a mother too! Our story is not over but just beginning. In early 2020 another prayer will be answered and our story will continue.