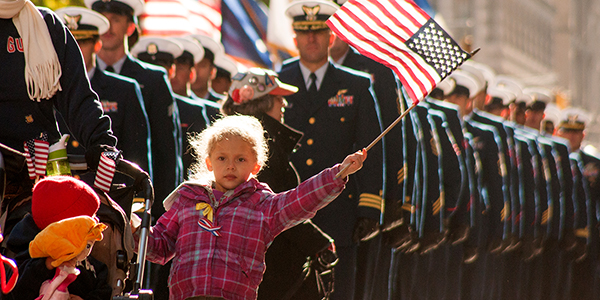 This Veterans Day, many of us will don a flag-bearing t-shirt or a stars-and-bars scarf, grab a handheld American flag, and head to town squares, VFW halls, or school auditoriums to participate in ceremonies honoring veterans. (Not sure where to find a Veterans Day celebration?)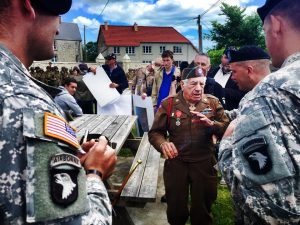 Color guards will present the colors. Veterans will parade in and take their seats of honor. A red, white, and blue floral wreath will be presented to honor those veterans who gave the ultimate sacrifice, and we will listen to speeches and music while we sip coffee and hot chocolate out of star-spangled cups. If we are fortunate, we will be addressed by a grandfather or grandmother, great-grandfather or great-grandmother, a mentor or friend who will regale us with stories of their time of service. Your Great-Grandfather will describe the time he was trapped behind enemy lines and hidden in a Belgian monastery for five days until he could safely be returned to his battalion. Mrs. Turner, the woman who reads to the toddlers at the library every Thursday, will share about working in the munitions factory, selling war bonds, and burning the first steak she ever cooked to charcoal because, due to rationing, she hadn't had access to meat before receiving that steak gifted to her soldier-husband by a grateful farmer.
We take in these stories – family stories, national stories – and they become a part of us. So that when we don our flag-bearing shirt or wave our small flag along the parade route, we are sharing our story. Our story of pride. Our story of freedom.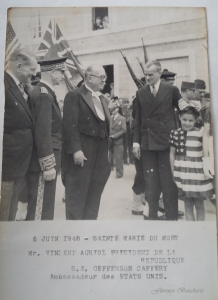 Seventy-three years ago, a little girl attended a similar ceremony. American soldiers stood on a beach they had stood on just a year before. But this year, in place of artillery fire, there was quiet reverence. Instead of muddy, bloody camouflage, there were freshly-pressed uniforms. And there the girl, Dany Patrix, stood watching, smiling, and wearing a new dress. A dress of red and white stripes and a blue field with white stars. A dress made from the silk of the parachutes many of these American soldiers before her had used to descend on Dany's town of St. Marie du Mont in Normandy, France just a year before bringing with them liberation.
Dany's mother, Cecile, made her daughter a dress. But it was so much more. It was a thank you to the soldiers who came to a shore not their own to free a people not their people. It was a testimony to her daughter of national and personal endurance and international fidelity and peace. It was a legacy to all of us of hope and freedom.
So this Veteran's Day, when we don our stars-and-bars scarves, stand for passing color guards, and absorb the stories of our veterans, let us remember that little girl in Normandy, France. A little girl who experienced a chapter of this story alongside our veterans and, as a grown woman, continues to walk beside them telling her story. Telling their story. Telling our story. The story of freedom.
This post was authored by: