The Girl Who Wore Freedom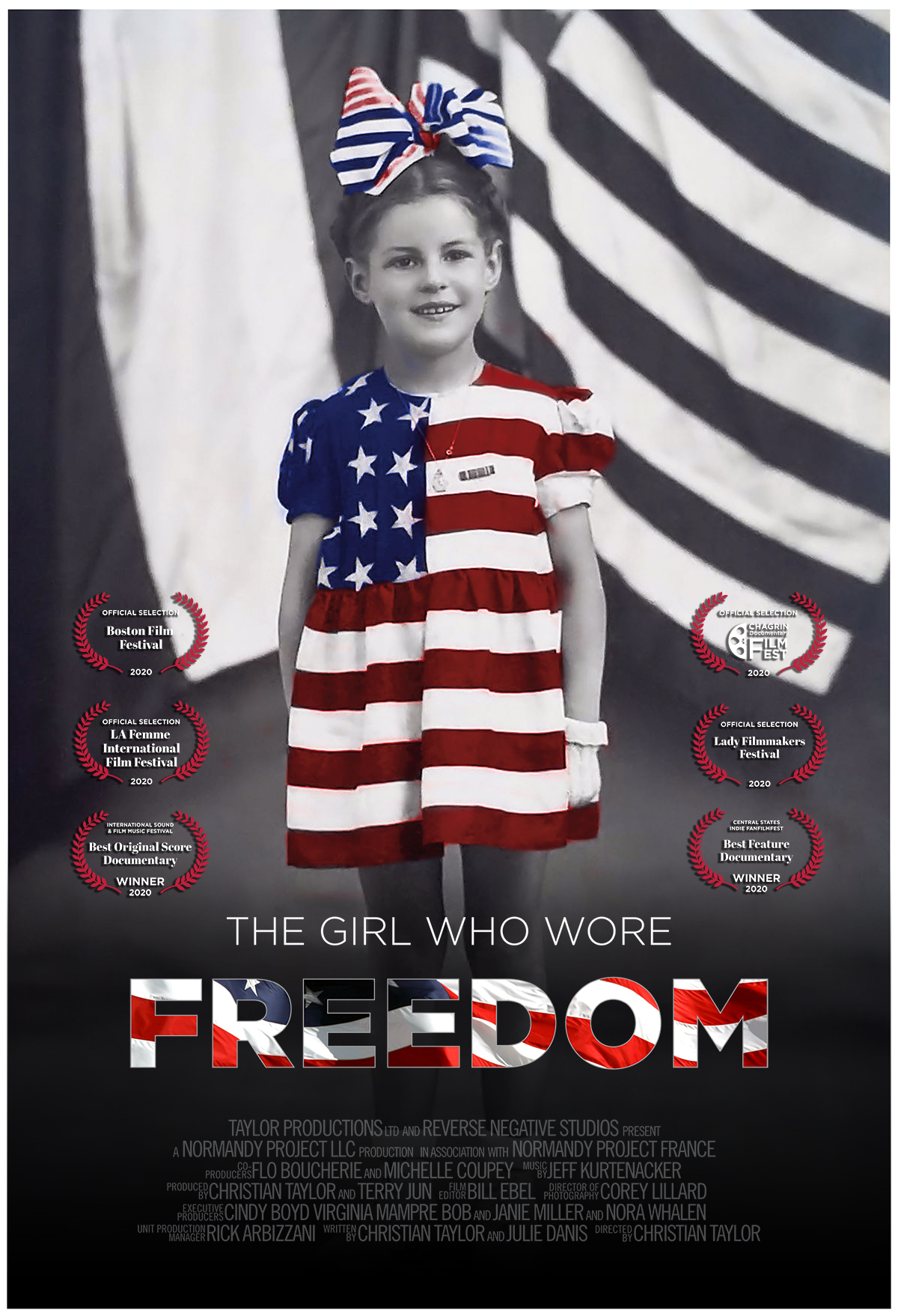 Project Type: Documentary Feature
Producers: Terry Jun, Virginia Mampre, Christian Taylor
Director: Christian Taylor
DP: Corey Lillard
Screenwriters: Julie Danis, Lars Ullberg
Editor: Bill Ebel
Composer: Jeff Kurtenacker
An Untold Love Story of Two Nations Uncovered From The Ruins of WWII
This is not your conventional love story, but a love story nonetheless, one that has lasted for over 70 years between a city that had lived under oppressive occupation and a nation that came to rescue them.
In the first chapter of this documentary series, we follow the German occupation of Normandy and the liberation of the French people, told through stories of the French who lived through this turbulent time and still speak of a love affair that bonds generations of Free French to their American liberators to this day.
One little girl's story exemplifies how the French saw – and still remember – the bravery and heroism of the American GIs and demonstrates why the United States has always taken part in protecting and liberating any who are oppressed. Her name is Dany Patrix, The Girl Who Wore Freedom, and she is the thread that weaves us throughout this story.
Why must this story be told? Almost as tragic as the lives lost to pay for this freedom is the collective memory loss in the United States about those memories. The people of Normandy still remember and appreciate to this day the sacrifices that were made, and celebrate these memories annually. As we have seen, when Americans experience this love, they are touched by it.
This should not fade into a one-sided love story. We cannot let the stories of the grateful French citizens fade silently into history.
Logline
The untold WWII stories of the men, women and children of Normandy, France, who lived through German occupation, the D-Day invasion, and the liberation by Allied forces — and their effort to "never forget."
Synopsis
This story begins in Normandy, France, where Dany Patrix and other survivors of the D-Day invasion share personal reflections and untold stories of living under German occupation and being liberated by Allied forces in World War II.
We follow Dany from her first interaction with an American soldier on D-Day, to her current experiences of thanking World War II veterans and their modern-day replacements.
Maurice Lecouer, Henri-Jean Renaud, and others recount how the relationship between soldier and citizen grew from an initial wariness to an eternal bond that has been passed down for generations.
We visit Brecourt Manor, the site of a the battle between the men of Easy Company — known as the Band of Brothers — and a German battery. We watch re-enactments of historical events and witness WWII veterans visiting Normandy for the first time since the war.
Normandy is a living war museum, with shrapnel on the beaches, bullet-holed walls, and blood-stained pews. Normans have vowed to never forget the lessons of WWII and the value of freedom.
This story closes on D-Day celebrations of remembrance and gratitude where young and old French citizens celebrate those who are willing to defend freedom, because they, the people of Normandy, know that freedom is not free.